TSU blasts Chu over KMT illegal assets
'LIES': The TSU said questions remain over KMT ownership over 21 properties, which include seven that a National Audit Office report said the KMT was illegally occupying
The Taiwan Solidarity Union (TSU) caucus yesterday panned Chinese Nationalist Party (KMT) Chairman Eric Chu's (朱立倫) claim that he has resolved the issue of the party's controversial assets, calling it a lie.
Chu said at the KMT's weekly Central Standing Committee meeting on Wednesday that he has finished taking care of all of the party's controversial assets, declaring that they are now all legal.
However, the TSU asserted that there are still at least 21 questionable properties.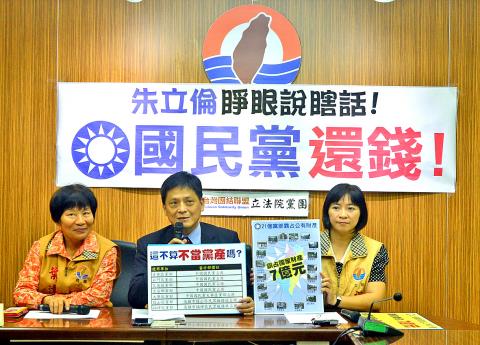 Members of the Taiwan Solidarity Union caucus yesterday hold a press conference in the Legislative Yuan to counter Chinese Nationalist Party (KMT) Chairman Eric Chu's claim that he has resolved the issue of the KMT's controversial assets.
Photo: Wang Yi-sung, Taipei Times
"Questions remain about KMT ownership of land or buildings used by 21 of its local chapters across the nation. These include the seven that the National Audit Office has designated in its annual report as being illegally occupied [by the KMT]," TSU caucus whip Lai Chen-chang (賴振昌) told a press conference.
"The KMT has obtained these properties through different means during the era when there was no boundary between the party and the government," he said.
"It is easy to find questionable real-estate properties because there are registrations; however, we do not know how many more illegal assets the KMT has," Lai added.
During the Martial Law period, the then-authoritarian KMT regime took over properties formerly held by the Japanese colonial government. Instead of listing all of them as national properties, the KMT took over some of them without going through due process.
Liu Shu-hui (劉淑惠), a representative of the National Audit Office, backed Lai's assertions that the KMT had claimed some properties that should belong to the government.
"We made the report based on information reported by local governments," Liu said. "We are now collecting rent from some of the properties, taking compensation for those illegally occupied [by the KMT], while some of the questionable properties are still going through lawsuits."
TSU Legislator Yeh Chin-ling (葉津鈴) said that if the KMT is unable to prove that it has legally purchased a certain property from the government, "it should just return it."
Comments will be moderated. Keep comments relevant to the article. Remarks containing abusive and obscene language, personal attacks of any kind or promotion will be removed and the user banned. Final decision will be at the discretion of the Taipei Times.