Fishermen protest labor issues
SALARY CONCERNS: A Ministry of Labor official said that accommodation in lieu of payment is in the rules, but added it would probe the issue among employers
Civil groups and scores of migrant fishermen rallied in front of the Ministry of Labor headquarters in Taipei yesterday, saying their employers have improperly docked money from their salaries and comparing their working conditions to slavery.
Protesters and migrant fishermen, mostly Filipinos, performed a skit and shouted slogans in different languages, demanding free accommodation and direct payment of salaries for migrant fishermen.
Taiwan International Workers' Association researcher Wu Jing-ru (吳靜如) said many migrant fishermen have NT$5,000 deducted from their pay per month for onboard accommodation, as employers are allowed to provide lodging or other benefits worth up to NT$5,000 in lieu of the full minimum wage, according to the Labor Standards Act (勞基法).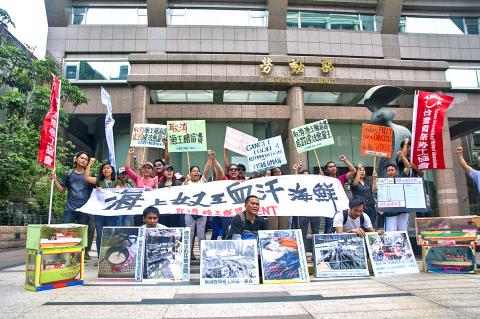 Civic groups and migrant fishermen demonstrate outside the Ministry of Labor headquarters in Taipei yesterday, calling on the ministry to enforce labor laws.
Photo: CNA
The onboard lodging is not worth the money, but migrant workers — who usually earn the minimum wage — have to pay for it as well as brokerage fees, making their real wage much lower than the minimum, Wu said.
A Filipino fisherman using the name Joel said he could not sleep in the fishing boat he works on because the crew's cabin is too hot and noisy due to its proximity to the engine, forcing him to sleep on a makeshift bed of cardboard on deck.
During a six-day layover due to a typhoon, he and another crew member were given only NT$500 for dining expenses, and they had to pick fruit on a nearby mountain to survive, Joel said.
Another fisherman, who gave his name as Joeril, said his captain limits water use and does not allow crew to do laundry onboard, while giving them only rice porridge for breakfast.
Wu said that human resource agencies often concoct various excuses to deduct migrant fishermen's salaries, such as exacting brokerage fees, but listing the payment as "mortgage," and forcing workers to sign a "mortgage contract" with the agencies' subsidiaries registered in migrant workers' countries of origin.
The ministry has been negligent by failing to conduct any inspections over such practices, Wu said, adding that it claims that the docking of pay — as it is a "mortgage" made between foreign workers and foreign-registered firms — is regulated by the labor exporting nation, instead of recognizing the practice as a breach of the act.
According to the ministry's Foreign Workers Living and Caring Service Planning Book (外國人生活照顧服務計畫書), employers of migrant workers are required to provide accommodation that meets the workers' needs, but the ministry has failed to ensure the implementation of the rule, Wu said.
Vietnamese Catholic priest Peter Nguyen Van Hung said that Vietnamese migrant fishermen faced a similar plight before they were blocked from working in Taiwan in 2004, with the situation remaining unchanged for years.
Ministry Senior Executive Officer Hou Song-yen (侯松延), who accepted the protesters' petition, said it is legally permissible for employers to provide accommodation in lieu of payment, but added that the ministry would look into the protesters' claims to determine whether there is any illegal activity going on.
The ministry is yet to conduct an inspection of the fishing industry due to its unique working patterns, Hou said, adding that it is the Fisheries Agency's duty to inspect working conditions of fishing vessels operating outside Taiwan's territorial waters.
Comments will be moderated. Keep comments relevant to the article. Remarks containing abusive and obscene language, personal attacks of any kind or promotion will be removed and the user banned. Final decision will be at the discretion of the Taipei Times.