Soong apologizes for his role in Martial Law era
'LONG OVERDUE': James Soong responded to growing calls for an apology for suppressing freedoms of the press, speech and language while serving under the KMT
People First Party (PFP) presidential candidate James Soong (宋楚瑜) yesterday bowed in apology for what he said were long-term, excruciating pains suffered by Taiwanese nearly four decades ago, amid growing calls for him to apologize for his roles in the Chinese Nationalist Party's (KMT) suppression of the freedoms of the press, speech and language under its one-party rule.
"I would like to express my regret for the harms and wounds that once existed in this island of Taiwan... I also want to extend my apologies to those afflicted with such long-standing and agonizing pains," Soong told a press conference held for the release of his second campaign video in Taipei yesterday morning.
"We must not forget how many families were torn up and how their emotional sufferings have been passed down from generation to generation. I can now relate to such pains. My apology is long overdue," Soong said.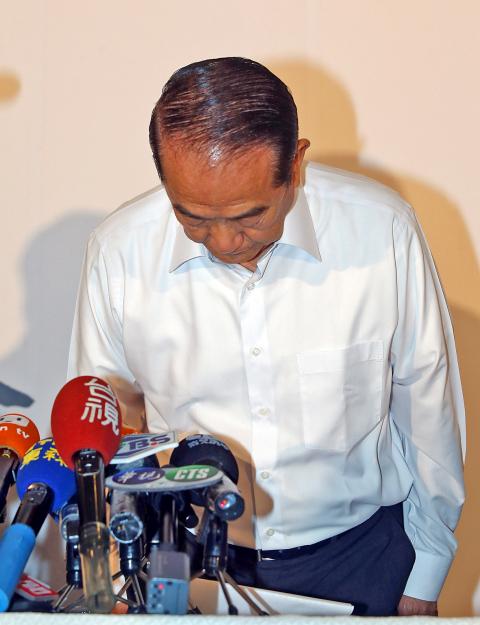 People First Party (PFP) Chairman James Soong bows to apologize for his role in the pain inflicted on Taiwanese during the Martial Law era as he released his second presidential campaign video yesterday in Taipei.
Photo: CNA
Having served in numerous positions under the regimes of former presidents Chiang Kai-shek (蔣介石) and Chiang Ching-kuo (蔣經國), the 73-year-old seasoned politician has been facing calls following his announcement for presidential candidacy earlier this month to face up to the skeletons in his closet.
He has been urged to issue a formal apology for his acts of suppression against the freedoms of the press, speech and language during his term as the director-general of the now-dissolved Government Information Office between 1979 and 1984.
During that period, languages other than Mandarin were discouraged and an abundance of publications were banned under Soong's rein, including leading opposition magazine Formosa Magazine (美麗島).
Soong said he thought he had offered a clear enough explanation for past incidents, but many people still demanded an apology from him for his roles in that period.
"Then a group of young people in the filming team for my second campaign video titled Shaving Beard (刮鬍子) told me that the younger generations could not care less about my explanations or stories," Soong said.
"They are fed up with you grown-ups' old and bitter feud. All they see are your condescending attitudes," Soong quoted them as saying.
Soong said maybe people requesting an apology from him were simply attempting to find someone to represent that period of heartbreak, as well as the violent acts and emotional distress they had been subjected to.
"All they need is a fair and heartfelt sorry... I feel extremely honored to be able to be that someone who helps untie the decades-old knots in their hearts," Soong said.
He said he did not feel aggrieved in making the apology, and that he had no ulterior motive.
It was the result of a shame-filled process of self-reflection that aimed to put social divisions and long-standing scars to rest in his generation, Soong said.
"History is just and fair. It gave me a temporary spot in that period and then arranged me to engage in self-reflection on other involved parties' behalf today," Soong said.
The 73-year-old went on to say that remarks made by Taipei Mayor Ko Wen-je (柯文哲) when his family was branded as "descendants of the Japanese emperor's loyal subjects" by prominent KMT veterans during his campaign for the mayorship last year made a profound impression on him.
"Ko said at the time that he could tolerate harsh criticism, but that label was unacceptable to many because it sent a message that a particular generation of people should be held accountable for that period of history," Soong said.
History is open to different interpretations, Soong said, adding that it should be a mirror rather than a rope that is used to repeatedly tie up the country.
Comments will be moderated. Keep comments relevant to the article. Remarks containing abusive and obscene language, personal attacks of any kind or promotion will be removed and the user banned. Final decision will be at the discretion of the Taipei Times.