President Ma expresses regret over Abe speech
President Ma Ying-jeou (馬英九) yesterday expressed regret that Japanese Prime Minister Shinzo Abe did not apologize over the "comfort women" issue in Abe's statement marking the 70th anniversary of the end of World War II.
Ma said during a meeting with a delegation from the Liberal Democratic Party of Japan that Abe mentioned words such as "aggression," "colonial rule," "calmly reflect upon," "repentance" and "apology."
Abe twice mentioned that "there were women behind the battlefields whose honor and dignity were severely injured," Ma said.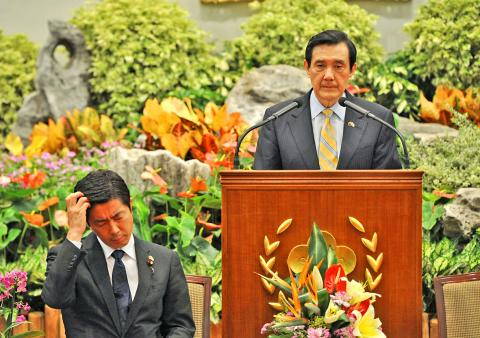 Japanese Liberal Democratic Party Legislator Hideki Makihara, left, scratches his head as President Ma Ying-jeou addresses a delegation from the party in Taipei yesterday.
Photo: CNA
"Regrettably, he did not offer an apology over the comfort woman issue," Ma said.
The Republic of China government believes in the Japanese government's willingness to reflect on its mistakes, but as a friend, we hope Japan will do more and do better in this regard," he added.
"Comfort women" is a euphemism for women across Asia, including from Taiwan, who were forced into sexual slavery by the Japanese Imperial Army during World War II.
According to Ma, in 1996 the UN Human Rights Council determined after a special investigation that comfort women were military sexual slaves.
After that, the parliament of 30 countries including the EU passed resolutions to support the idea that Japan should apologize to the women, he said.
This shows that the matter has obtained international consensus and is a key issue if Japan wants to improve its relations with Southeast Asian countries, Ma said.
The documentary Song of the Reed (蘆葦之歌) records the stories of six Taiwanese comfort women, some of whom have died since the completion of filming in 2013, Ma said, adding that some of them are still waiting for the Japanese government to take further action.
Comments will be moderated. Keep comments relevant to the article. Remarks containing abusive and obscene language, personal attacks of any kind or promotion will be removed and the user banned. Final decision will be at the discretion of the Taipei Times.