Greens, Social Democrats to cooperate
LEGISLATIVE ELECTIONS: Leaders of the two parties said it took six months to agree to collaborate. However, they have yet to draft a joint platform or draw up their slate
The Green Party Taiwan and Social Democratic Party (SDP) yesterday said they would register a "Green-SDP Alliance" party with the Ministry of the Interior to field a joint slate of at-large candidates in January's legislative elections.
Green Party conveners Lee Ken-cheng (李根政) and Chang Yu-ching (張育憬) shook hands with SDP convener Fan Yun (范雲) at a press conference in Taipei after signing a memorandum of understanding.
Legislative candidates from the two parties stood together promising to "fight together to win for the people."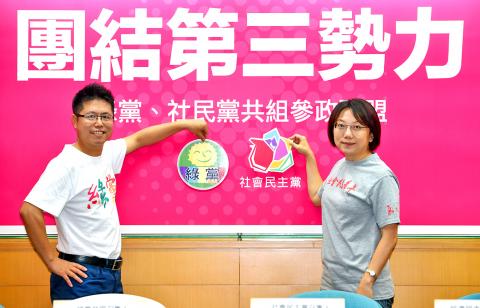 Green Party Taiwan convener Lee Ken-cheng, left, and Social Democratic Party convener Fan Yun yesterday pose at a news conference in Taipei after announcing plans to field a joint slate of at-large candidates in January's legislative elections.
Photo: Lo Pei-der, Taipei Times
"Compatriots must stand together, because true strength is found in solidarity," Lee and Fan Yun both said in their speeches at the event, quoting Taiwanese democracy pioneer Chiang Wei-shui (蔣渭水).
"Taiwan needs a new political force aside from two main political parties, which are both biased towards corporations — a political force that would always stand up to defend land, the weak and human rights," Lee said. "The Green-SDP Alliance will act as a watchdog and an opposition party."
While negotiating cooperation had been "difficult," requiring six months of talks, solidarity was important to both sides, he said.
Fan said the alliance would work to "eliminate" the Chinese Nationalist Party (KMT) while "balancing" the Democratic Progressive Party by striving to become the "crucial minority" in the Legislative Yuan.
She urged other "progressive social forces" to stand with them in the legislative elections, saying the alliance's current membership was "insufficient."
The Green Party Taiwan was founded in 1996 and won two county and city councilor seats in last year's local elections.
The Social Democratic Party was founded by members of the civic group Taiwan Citizen's Union (TCU) in March, following disagreements with TCU members who had launched the New Power Party earlier in the year.
Efforts by the Green Party and New Power Party aimed at collaboration failed.
Lee said that while he remained open to "cooperation" with the New Power Party, registration deadlines would make it difficult to include that party in the alliance's slate of at-large candidates after they officially register the ticket with the interior ministry.
Any cooperation would likely be limited to harmonizing candidates for legislative districts, he said.
"This is a temporary alliance created to participate in the elections," said Ku Yu-ling (顧玉玲), a former secretary-general of the Taiwan International Workers' Association, who was invited to witness the signing of the memorandum. "Exactly where they compromise and how they define the basis for their cooperation is very interesting and important."
While the memorandum calls for joint campaigning and splitting any campaign contributions and subsidies, the two parties have not drafted a common platform or even drawn up a list of candidates.
Parties must attract 5 percent of the national vote to be eligible for an at-large legislative seat.
A report by the Chinese-language Storm Media on opinion polls released last week placed support for the New Power Party at 5.6 percent of respondents, the Green Party at 2.6 percent and the SDP at less than 1 percent.
Comments will be moderated. Keep comments relevant to the article. Remarks containing abusive and obscene language, personal attacks of any kind or promotion will be removed and the user banned. Final decision will be at the discretion of the Taipei Times.