Traditional Amis clothing restored through workshop
BACK IN BLACK: Amis garments were changed from their original black to red to appeal to tourists, but painstaking research has recreated the original styles
Scores of Amis women went to great lengths to survey historical data and interview older members of the Amis Aboriginal people to reconstruct traditional Amis clothing in its original color: black — the staple color of Amis clothes until red took over for its perceived festiveness and compatibility with ethno-tourism.
A workshop held by the Hualien City Office aimed at reviving traditional Amis garments and headdresses saw participants piece together historical materials and oral history to return traditional Amis clothing to its original color, the workshop organizer said.
The workshop held a completion ceremony on Tuesday, with participants clad in traditional black costumes and floral headpieces, singing and dancing to celebrate their accomplishment, the workshop organizer said.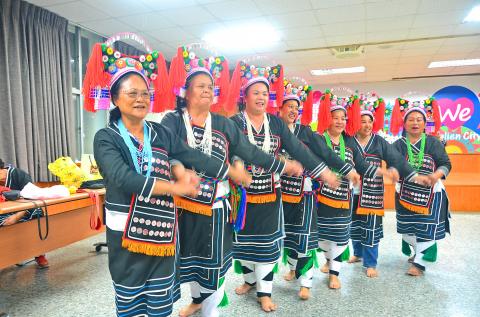 Amis people perform a traditional dance at a workshop held by the Hualien City Office on Tuesday to demonstrate traditional Amis attire and culture.
Photo: Wang Chin-i, Taipei Times
In full traditional Amis outfit, Chang Mei-hui (張美慧), wife of Hualien Mayor Tien Chih-hsuan (田智宣), attended the ceremony, saying that she urged the participants to keep reconnecting with their cultural roots and re-establishing the Amis legacy.
The city office said that it would help cement Aboriginal culture and restore lost traditional rituals.
The traditional Amis floral headdress was adorned with fresh flowers, but today, that is generally replaced with strings of beads and sequins, office section head Chang Ching-lien (張金蓮) said, adding that the coloring of necklaces serve to distinguish different Amis communities.
There have been Amis women donning traditional black garments and headdresses at harvest festivals held by different communities across Hualien County, Chang Ching-lien said.
Those certified workshop members — 40 Amis women from three different communities — are prospective teachers to spread the revitalization of traditional Amis clothing to make the clothing a mainstay of major harvest festivals at 12 Amis communities in the county in a spirit of re-energizing and transmitting a lost legacy to later generations, the office said.
Tracing the change of style provides a window to understanding the cultural development of Aborigines over the years, and such workshops aimed at cultural revitalization can enable Aborigines to better reconnect with their past and consolidate Aboriginal identity, the office said.
"It was the first time that I had my own traditional Amis clothing and I hand-sewed every seam of it," one 50-year old workshop member said. "The black garment is a symbol of restoring the essence of traditional culture."
Comments will be moderated. Keep comments relevant to the article. Remarks containing abusive and obscene language, personal attacks of any kind or promotion will be removed and the user banned. Final decision will be at the discretion of the Taipei Times.