Rare bird photo contest canceled
The New Taipei City Government has canceled a proposed photography contest focused on a rare Siberian white crane that migrated to a wetland in the city late last year amid criticism the contest could threaten the bird's habitat with the influx of competitors and tourists.
The contest was promoted on the city's Animal Protection and Health Inspection Office Web site to raise awareness of bird conservation and the rarity of the white crane — an endangered species — but the office canceled the contest due to conservation concerns, office director Chen Yuan-chuan (陳淵泉) said.
The office has deployed a security guard to maintain order at the site, cordoned off the rice paddies where the bird dwells and set up warning signs to caution the public against getting too close to the bird, Chen said.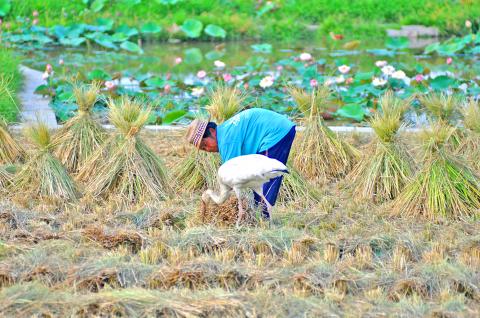 A Siberian white crane accompanies a farmer while he works in a field near New Taipei City's Chingshui wetland on Monday.
Photo: Yu Chao-fu, Taipei Times
Taiwan Ecological Engineering Development Foundation deputy executive Chiu Ming-yuan (邱銘源), who established a conservation team to protect the white crane and document its daily activities and growth, said humans are the most dangerous threat to the crane.
The white crane has survived several human intrusions, including a television crew that was shooting a gunfight scene using camera-equipped drones, photographers breaking into the paddies to capture the bird and tourists teasing the crane with a slipper, Chiu said.
He said that although the office might have launched the contest out of goodwill, but it had misunderstood its duty to protect the bird, while encouraging more tourists at a time when the on-site guard and environmentalists were already overwhelmed with misbehaving visitors.
Saying that the office had claimed that it could not afford to keep a guard at the scene any longer than next month, Chiu asked how the office had the money to hold the contest.
A birdwatcher surnamed Lai (賴) said any such activity that did not contribute to ecological education is a waste of money and could lead to misconceptions about conservation.
Chen said that it only costs NT$30,000 to hold the contest, which is defined as an administrative expense, while hiring a security guard is a personnel expense.
However, the office has managed to hire a security guard until Sept. 15, Chen said.
Comments will be moderated. Keep comments relevant to the article. Remarks containing abusive and obscene language, personal attacks of any kind or promotion will be removed and the user banned. Final decision will be at the discretion of the Taipei Times.