Tsai promises to fight for Pingpu legal recognition
APOLOGY: The DPP presidential candidate said that if elected, she would apologize to Aboriginal peoples on behalf of the nation for their disadvantaged situation
Democratic Progressive Party (DPP) Chairperson Tsai Ing-wen (蔡英文) yesterday vowed to push for legal recognition of Pingpu Aborigines as well as Aboriginal autonomy once elected president.
Tsai made the vows during a news conference in Taipei to present her Aboriginal policy platform, marking her first policy presentation since she received the DPP's official nomination as its presidential candidate.
"The DPP has not forgotten that Pingpu Aborigines are also members of Taiwan's indigenous peoples, and they are entitled to the same degree of protection of their rights [as legally recognized Aboriginal people are] once their Aboriginal status is restored," Tsai said, triggering a round of loud applause. "We will recognize the Pingpu Aborigines' identity and right to make policy and laws, as well as actively preserve Pingpu languages and cultures, and, of course, as the population of [legally recognized] Aborigines increases, we will also increase relevant budgets."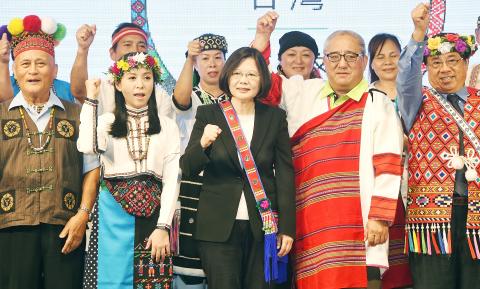 Aboriginal representatives join Democratic Progressive Party presidential candidate Tsai Ing-wen, center, at a news conference in Taipei yesterday.
Photo: Liao Chen-huei, Taipei Times
Pingpu Aborigines are a number of Aboriginal communities that live mostly in the nation's lowland regions whose cultures and languages are seriously threatened — some have already become extinct, while others are endangered.
Having been recognized as official indigenous peoples until the end of World War II, the Chinese Nationalist Party (KMT) regime ended official recognition of their ethnic status in the 1960s due to a series of administrative failures. In recent decades, Pingpu Aborigines have been campaigning for recognition of their Aboriginal status.
Tsai also said that, if elected, she would apologize to the nation's Aborigines as president on behalf of the government.
"Why apologize? Well, looking back through history, Aborigines gradually lost their lands while under the rule of different governments and foreign powers," Tsai said. "Even today, they continue to be at a disadvantage in areas including economy, education and health."
The government must honestly face the exploitation and injustices suffered by Aborigines, the causes of the problems, Tsai said, so that reconciliation and transitional justice can be brought about.
Tsai also said that, if elected, she would push for Aboriginal autonomy, which would include clear definition of domains, land ownership and stable sources of income.
"The structure of the autonomous governments should be formed only after having fully negotiated with Aborigines on an equal basis," Tsai said. "And Aboriginal communities must enjoy legal status as well."
Comments will be moderated. Keep comments relevant to the article. Remarks containing abusive and obscene language, personal attacks of any kind or promotion will be removed and the user banned. Final decision will be at the discretion of the Taipei Times.