Curriculum Protests: Interview: Lin gave interview three days before death
As the nation reels from the news that student activist Dai Lin (林冠華) has taken his own life, an interview with the Chinese-language Liberty Times (the Taipei Times' sister paper) showed the pressure he was under due to his participation in protests against the government's planned changes to high-school student curriculum guidelines.
Lin was one of 33 people arrested on Thursday night last week for entering the Ministry of Education building and was facing possible prosecution along with 23 other activists.
During a telephone interview on Sunday — two days after his release on bail — Lin said that the principal of New Taipei City's Juang Jing Vocational High School had visited him hours earlier to discuss his involvement in the demonstration.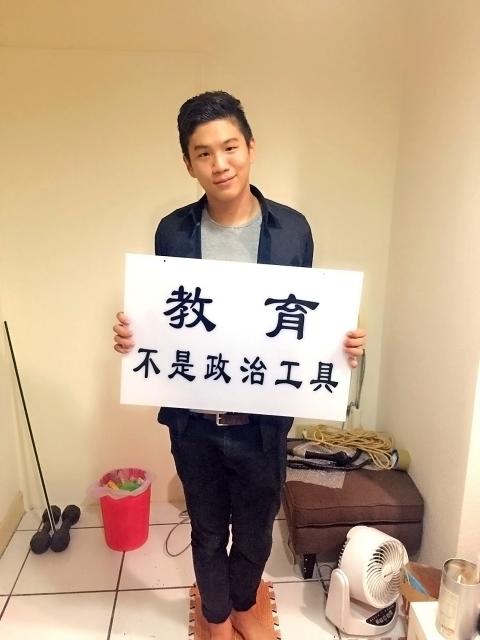 High-school student activist Dai Lin holds up a sign reading "Education is not a political tool" in an undated photograph.
Facebook screen grab
"The principal started off by asking me what I really wanted and if there were any messages I needed him to help me convey," said Lin, who had applied for leave from the school to devote more time to the protests.
The 20-year-old said the principal asked him a lot of questions such as: "Did I know what I was doing? Had I thought this through? Had I fulfilled my duty [as a student]? Had I thought about my future and whether I would still be able to find a job after the arrest."
Lin said he told the principal he had taken all those things into consideration before joining the protest against the opaque changes to the curriculum and that what had saddened the students the most was seeing their own teachers and principals dismissing their efforts out of hand.
"I think the principal achieved what he intended. After our talk, he went to speak to my mother downstairs for about 10 minutes. All of a sudden, my parents, who had never spoken against my participation said: 'Who are you to fight this cause? Don't be too full of yourself,'" Lin said.
"Their words made me disappointed in myself," he added.
Asked if other student protesters had also been talked to by their schools' authorities, Lin said the movement would not take any action if his was an isolated case, but that protesters would make their objections known if they ever discovered the Ministry of Education was behind a campaign of intimidation.
Lin said student movements were not frivolous activities because participants often had to undergo questioning from authorities and their characters can be attacked.
"I sincerely hope that parents and school authorities take the time to understand why students are fighting for this cause despite all the pressure we are under. Do not just tell us that the curriculum will no longer be our problem after we graduate and go to college," he said.
Lin said that many authority figures show no understanding or empathy with the movement's efforts.
"Maybe the schools are under pressure [from the ministry] or our movement has caused them too much inconvenience. Either way, they should not have questioned or dismissed our motives," he said.
Comments will be moderated. Keep comments relevant to the article. Remarks containing abusive and obscene language, personal attacks of any kind or promotion will be removed and the user banned. Final decision will be at the discretion of the Taipei Times.