Legislative hopefuls eager to use Soong photos
While People First Party (PFP) Chairman James Soong (宋楚瑜) is yet to announce a presidential bid, the party's legislative candidates are eager to use campaign billboards with photographs of them posing with Soong to boost their electoral prospects.
PFP Deputy Secretary-General Liu Wen-hsiung (劉文雄), who is running for a legislative seat in Keelung, said he had a photo shoot with Soong two weeks ago and would put up boards featuring the photographs as soon as Soong announces his candidacy next month.
Former Chinese Nationalist Party (KMT) legislator Chang Sho-wen (張碩文), who withdrew from the KMT and is competing in New Taipei City's Sanchong District (三重) for the PFP, said he is looking for places to put campaign posters.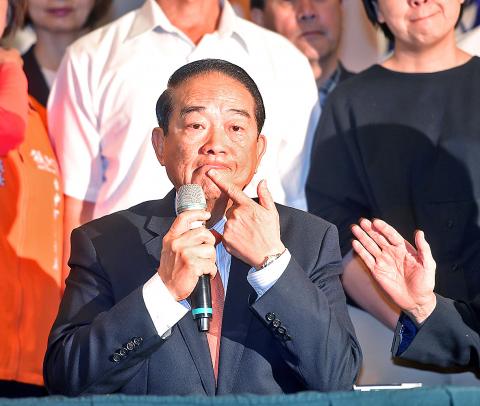 People First Party Chairman James Soong ponders a question during a press conference in Taipei on Tuesday last week.
Photo: Fang Pin-chao, Taipei Times
Chang said he would first put up posters with only his image, while billboards with Soong would go up later, as they need more space.
Chang said that showcasing pictures of himself with Soong would certainly boost his campaign, as many voters expressed support for Soong when Chang was campaigning.
Voters were concerned over whether Soong would announce his candidacy, saying they would support Soong's bid as he is a capable person, Chang said, adding that he would not run his campaign without using his pictures with Soong.
PFP Taipei City Councilor Vivian Huang (黃珊珊), who is running for a seat in Taipei's Nangang/Neihu (南港/內湖) constituency, said she would definitely use photographs with Soong, which "only the KMT [candidates] are not willing to do."
She said she had posed with Soong, but would delay putting up billboards to comply with city regulations that stipulate campaign advertisements cannot be used until two months before polling day, Jan. 16 next year.
Former legislator Chen Chao-jung (陳朝容), who is running for the third constituency in Changhua County for the PFP, said he would certainly put up billboards featuring photograph of himself and Soong.
"I will certainly put up [billboards], even if that could have some negative effects," Chen said. "Soong's positive image absolutely outweighs any negative effect."
Chen said that although many pan-green voters would hesitate at his association with Soong, the party chairman's image and administrative portfolio eclipse KMT presidential candidate Hung Hsiu-chu (洪秀柱) and Democratic Progressive Party presidential candidate Tsai Ing-wen (蔡英文).
Media personality Hector Kang (康仁俊), who is running in Banciao District (板橋) in New Taipei City, said he had not assessed the impact images of him posing with Soong, but as a PFP member he would definitely use campaign posters featuring himself and the party chairman.
Comments will be moderated. Keep comments relevant to the article. Remarks containing abusive and obscene language, personal attacks of any kind or promotion will be removed and the user banned. Final decision will be at the discretion of the Taipei Times.