FEATURE: EPA touts air sampling vehicles
THE LATEST THING: The EPA has new equipment to monitor and sample air quality that provide fast results that are also more comprehensive than current technologies
The Environmental Protection Administration (EPA) debuted an upgraded version of its environmental survey vehicle and its high-altitude air sampling technology on the outlying islands of Penghu County.
EPA Environmental Analysis Laboratory Acting Director Yen Chun-lan (顏春蘭) said the vehicle, donated by Delta Electronics last year, uses a soft chemical ionization proton transfer reaction time-of-flight spectrometer, which can monitor more than 300 gaseous pollutants that have the ability to bind with oxonium ions using.
The pollutants include volatile organic compounds, inorganic gases and a range of odorous substances, which make up the majority of gaseous pollutants, she said.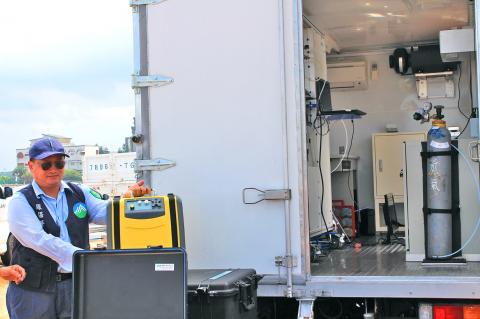 An Environmental Protection Administration official in Penghu on June 22 holds up a portable spectrometer for detecting air pollutants.
Photo: Sean Lin, Taipei Times Photo: Sean Lin, Taipei Times Sean Lin, Taipei Times
The vehicle also boasts quick sample analysis — capable of yielding results in less than 10 minutes — and can detect pollutants with concentrations as low as 0.01 parts per billion, Yen said.
The technology represents a major improvement on first-generation environmental survey vehicles, which can analyze about 56 pollutants and require up to one hour to produce results, she said.
The faster analysis would also speed up emergency response times to situations such as gas leaks, she said.
Other equipment on the vehicle includes a MS200 portable spectrometer and a Fourier transform infrared spectroscope (FTIR). Although both devices have a lower resolution than the chemical spectrometer, they can operate without an external power supply and can be used to detect escaping gases and pollutants in hard-to-reach areas, she said.
The FTIR uses an infrared spectrometer that shows the intensity of wavelengths projected by leaked gases, thereby identifying them, Yen said.
The equipment cost more than NT$15 million (US$479,202), she added.
The EPA deployed the vehicle close to the site of the recently Penghu Fireworks Festival in Magong City (馬公) to detect any surges in air pollutants caused by fireworks.
The results, produced between April 20 — the start of the festival — and June 15, showed margin increases in particulates under 10 micrometers, particulates under 2.5 micrometers and nitros oxide, which the EPA previously said were associated with fireworks.
The agency said that the phenomenon might be due to the high altitude at which fireworks explode, as environmental survey vehicles are usually monitor air quality near the ground.
The vehicle is to do an environmental surveillance mission at several industrial complexes and science parks, including Formosa Plastics Group's naphtha cracker in Yunlin County, the Central Taiwan Science Park and Hsinchu Science Park, before being deployed in Kaohsiung, one of the municipalities most affected by air pollution, the EPA said.
Also debuted last month, the EPA's high-altitude sampling technology, which uses a sampler attached to a balloon that can reach alttitudes of 700m to 1,000m to collect bacteria carried by air streams.
Laboratory researcher Yen Jung-hua (顏榮華) said that with the help of a high-speed motor, bacteria are sucked in by the sampler before falling on a petri dish where they are cultivated.
After bacterial colonies are formed, researchers conduct DNA sequencing to identify them, he said.
Comparing the results obtained in Penghu last month with others produced in New Taipei City's Wanli District (萬里) between March and April 2013, when northeast monsoons blew across the nation, Yen said that there is no noticeable difference in the types of bacteria identified, and results from both tests showed bacteria commonly found in dirt and deserts.
So far, the laboratory has not detected any health risks associated with these types of bacteria, but would carry out more detailed analysis on days when northeast winds are strong to ascertain whether elevated concentrations of bacteria would affect people's health, he said.
Comments will be moderated. Keep comments relevant to the article. Remarks containing abusive and obscene language, personal attacks of any kind or promotion will be removed and the user banned. Final decision will be at the discretion of the Taipei Times.