Independence party enters fray
Senior Taiwanese independence campaigners yesterday announced that they are establishing the Taiwan Independence Action Party (TIAP), saying that the Democratic Progressive Party (DPP) has been diverted from the independence movement.
Led by political commentator Chin Heng-wei (金恆煒), former presidential advisers Peng Ming-min (彭明敏) and Wu Li-pei (吳澧培), and former Presidential Office secretary-general Chen Shih-meng (陳師孟), the group delivered its application to register a new political party to the Ministry of the Interior.
Its objective is to get politicians supporting independence into the Legislative Yuan.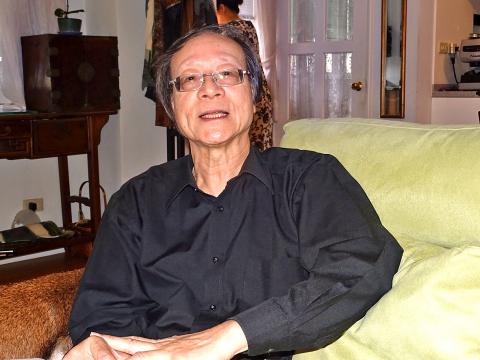 Political commentator and Taiwan Independence Action Party cofounder Chin Heng-wei poses in Taipei on Wednesday.
Photo: Li Hsin-fang, Taipei Times
"We have filed the application to register a new party to the ministry with a petition of 30 people," Chin told reporters in Taipei. "We are talking to some people about running for legislator on the TIAP ticket and we plan to nominate people for regional representation."
"As for president, we will support [DPP Chairperson] Tsai Ing-wen (蔡英文), as her political ideologies are close to ours," he added.
Chin said that under pressure from the US and China, the DPP has avoided talking about independence, with Tsai emphasizing maintaining the "status quo" under the Republic of China Constitution, while Chinese Nationalist Party (KMT) presidential hopeful Hung Hsiu-chu (洪秀柱) has been talking about "one China, same interpretation."
"This shows that the DPP has given up on independence — and the biggest problem facing the DPP is that most people are eyeing only the interests of themselves and their affiliated factions in the party," Chin said. "Recent opinion polls show that as many as 70 or 80 percent of the public identify themselves as Taiwanese, so we are joining the legislative bid to attract support from independentists."
While saying that the group would not take the initiative to negotiate with the DPP, Chin said that the TIAP would keep its doors open if the DPP would like to talk about cross-party collaborations.
Chin said that his group is in touch with the Free Taiwan Party (FTP), a pro-independence party founded by Alliance of Referendum for Taiwan convener Tsay Ting-kuei (蔡丁貴) and might cooperate with the group, as independence is the ultimate objective for both parties.
DPP spokesperson Juan Chao-hsiung (阮昭雄) said that the DPP would respect different opinions in the nation.
Comments will be moderated. Keep comments relevant to the article. Remarks containing abusive and obscene language, personal attacks of any kind or promotion will be removed and the user banned. Final decision will be at the discretion of the Taipei Times.