Some in KMT concerned about Hung
GEOGRAPHIC DISCOMFORT? If Hung Hsiu-chu is the KMT presidential nominee, she could doom it in legislative elections in central and southern Taiwan, a source said
A number of Chinese Nationalist Party (KMT) legislators from central and southern Taiwan yesterday expressed concern about support for Deputy Legislative Speaker Hung Hsiu-chu (洪秀柱) in January's presidential election, despite the 46.203 percent support rate she drew in the party's presidential primary polls.
KMT party headquarters yesterday announced that Hung passed the required 30 percent support threshold for the primary polls, qualifying her to be nominated for the January election.
KMT sources said that "hesitation and cowardice" among so-called "heavyweights" who failed to run in the primary drove party members to support Hung and help her pass the primary threshold.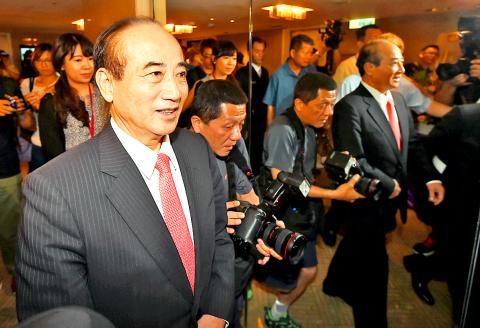 Legislative Speaker Wang Jin-pyng yesterday talks to reporters in Taipei after Deputy Legislative Speaker Hung Hsiu-chu received an average of 46.203 percent in the Chinese Nationalist Party's (KMT) presidential primary opinion polls.
Photo: Chang Chia-ming, Taipei Times
KMT Legislator Chen Ken-te (陳根德), a supporter of Legislative Yuan Speaker Wang Jin-pyng (王金平), said there was no question of Hung receiving enough support to pass the party's internal requirements, adding that now it is up to the party's Central Standing Committee — and how many of its members would actually respect the party's system.
Asked if nominating Hung as its presidential candidate would affect the party's chances of winning, Chen said he was not optimistic about the party's chances with her as its candidate, adding that the present political environment is against the party.
Whether the party's upper echelons and its chairman had sufficient wisdom to help the party through the difficult period was key, Chen said, adding that KMT legislators can only help by securing votes in their respective constituencies.
KMT Legislator Huang Chao-shun (黃昭順), who represents a constituency in Kaohsiung, said she was not concerned about the primaries and would respect the party's decision.
"Nothing has gone according to predictions since the primaries began and nothing seems to be set in stone," Huang said, adding that she wished only the best for Hung in her efforts.
However, a KMT source in central Taiwan who wished to remain anonymous said that if Hung were nominated, the January presidential and legislative elections in central and southern Taiwan would be a disaster, citing Hung's dedication to the pan-blue ideology and to unification with China on cross-strait policies as her weak points.
Since the KMT landslide defeat in the nine-in-one elections in November last year, the Democratic Progressive Party (DPP) has gained a lot of influence nationwide and the KMT could ill afford to lose more neutral voters to the pan-green camp, the source said.
Pundits often attributed the KMT's losses to the President Ma Ying-jeou (馬英九) administration's China policies.
"We are helpless in the current situation and can only hope for the best," the source said.
Wang said he congratulated Hung on her primary win.
Asked about his presidential aspirations, Wang said there was no need to speak of past comments, adding that he hoped Hung achieves her goals.
Wang last week said that he would be "duty-bound to agree" to run for president if the KMT were to "draft" him as its candidate.
Comments will be moderated. Keep comments relevant to the article. Remarks containing abusive and obscene language, personal attacks of any kind or promotion will be removed and the user banned. Final decision will be at the discretion of the Taipei Times.