Mystery of man in weird white house arouses curiosity
An elderly man who maintains a house furnished with abandoned materials and painted white has stirred interest in Taitung County.
The man, surnamed Lee (李) and possibly in his 80s, has been collecting waste wood, bricks and glass to refurbish his house over the past 30 years, Taitung residents say.
Opinions differ as to what kind of person Lee is and what kind of house he is keeping because Lee, who is hearing-impaired and inarticulate, has never revealed his story.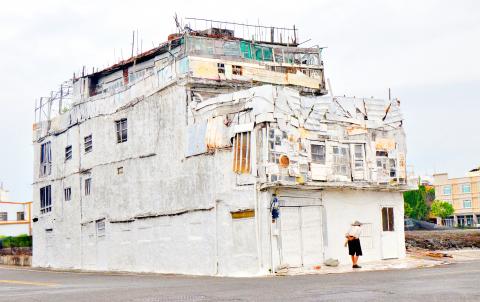 A veteran surnamed Lee strolls in front of his house in Taitung on Saturday last week.
Photo: CNA
Standing distinctively on an empty plot of land covering thousands of square meters, the house has become a tourist attraction.
Juan Wei-ming (阮偉明), an architect who is keeping a record of Lee and his house, said Lee was among the soldiers who withdrew with the Nationalist army to Taiwan after the Chinese Civil War.
Lee used to serve in the military in Tainan.
He raised six children, Juan said, adding that he has been invited into the house.
Juan said Lee told him that he spent NT$2 million (US$64,000) to buy the house in 1950, which Juan doubted.
The house is four floors, although it is hard to tell from the outside, Juan said, adding that Lee lives on the second floor and uses the third floor for growing vegetables.
Chen Chia-hsin (陳嘉信), one of Lee's neighbors who walks by the house every day, said it was originally a military checkpoint.
Lee is a retired soldier who was left to guard the house, Chen said.
Regardless of the different versions of Lee's story, what is for certain is that Lee's unusual house continues to grow.
"He has been building this house all his life," a woman who sells vegetables nearby said.
Comments will be moderated. Keep comments relevant to the article. Remarks containing abusive and obscene language, personal attacks of any kind or promotion will be removed and the user banned. Final decision will be at the discretion of the Taipei Times.