Clioquinol may help people with autism: study
An Academia Sinica study linking low zinc concentrations often detected in autistic people to genetic defects in two proteins suggests that autism-like behavior could be greatly ameliorated by boosting the transmission of zinc to the brain with the help of an antibiotic.
Academia Sinica research fellow and project leader Hsueh Yi-ping (薛一蘋) said her team obtained the results after performing an experiment on mice, which she said are sociable animals and therefore perfect test subjects.
Scientists compared the interactions of test mice by placing the subjects in a box, mice that had been unchanged, mice with their Tbr1 and Shank2 proteins "knocked off" and another "stranger" mouse.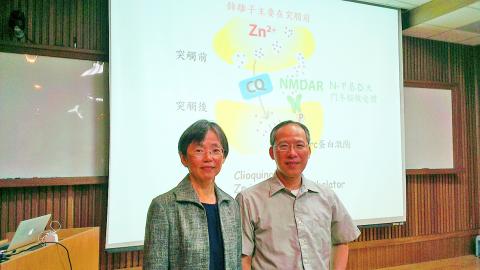 Hsueh Yi-ping, left, a research fellow at the Institute of Molecular Biology at Academia Sinica, yesterday poses below a screen introducing her new findings on how clioquinol could be used to increase zinc absorption and help people with autism.
Photo: Tang Chia-ling, Taipei Times
They found that unchanged mice engaged in high-level interaction with the "stranger" mouse, while mice with Tbr1 and Shank2 deficiencies interacted very little.
Hsueh's team had previously determined that Tbr1 is a contributing factor of autism, while a team led by South Korean scientist and project coleader Eunjoon Kim discovered that Shank2 is also implicated in the condition.
Both deficiencies hamper the transmission of zinc ions to the NMDAR (N-methyl-D-aspartate) receptor, impairing function.
About 30 percent of children with autism suffer from zinc deficiency.
The researchers used clioquinol, an antibiotic used to increase zinc absorption, on the mice displaying autistic behavior and found that they began behaving in a way almost identical to that of the unchanged mice as both the level of activity and interaction with the "stranger" mouse increased, Hsueh said.
Clioquinol helps to move zinc from a presynaptic terminal to postsynaptic sites in the brain, where it undergoes a chain of chemical reactions before being picked up by the NMDAR receptor. The research teams concluded that the improvements displayed by the autistic mice were achieved with the presence of zinc.
Hsueh said that previous projects had determined that autism is linked to zinc deficiency, but the research undertaken by Academia Sinica and the South Korean researchers is the first to provide a scientific explanation for the phenomenon by establishing that the social inhibitions caused by autism can be changed by revitalizing the NMDAR receptor.
Hsueh said the results from the experiment conducted on mice can be extrapolated to humans, with a higher than 90 percent relevance between the two species.
She said that as clioquinol is a prescription drug permitted in Taiwan, her team hopes psychiatrists will prescribe the drug to suitable patients.
Citing US research, she said that autism is becoming more prevalent, with the chance of children developing the condition rising from one in every 88 children to one in every 68.
The scientific community believes that there are at least 900 genes in humans that could lead to autism, and that it is likely that the therapy can be used to target other genetic defects to improve autistic conditions, she said.
Hsueh recommends that people with autism who are diagnosed with zinc deficiency caused by the underexpression of the NMDAR receptor to increase their zinc intake by eating food high in zinc, such as oysters. She added that meat, which is rich in protein, helps boost zinc absorption.
Comments will be moderated. Keep comments relevant to the article. Remarks containing abusive and obscene language, personal attacks of any kind or promotion will be removed and the user banned. Final decision will be at the discretion of the Taipei Times.