Think ahead on nuclear waste: expert
SAFE? Taipower defended its plan to send nuclear waste overseas for reprocessing, saying it would ensure that radioactive materials are not shipped back to Taiwan
The international community has stopped the practice of shipping nuclear waste overseas for reprocessing, and state-run Taiwan Power Co's (Taipower) plan to do so is just delaying nuclear waste management, French nuclear safety expert Yves Marignac said yesterday.
Speaking at a news conference in Taipei, the director of French non-profit nuclear energy consultancy World Information Service on Energy (WISE-Paris) said that Taiwan's spent fuel pools reaching capacity and Taipower's plan to reprocess highly radioactive nuclear waste are two separate issues that should not be discussed in the same context.
Taipower in February issued an online call for bids to solicit overseas contractors to reprocess about 1,200 bundles of spent fuel rods from the Jinshan and Guoshan nuclear power plants in New Taipei City, for which the company has requested a budget of NT$11.25 billion (US$362.9 million).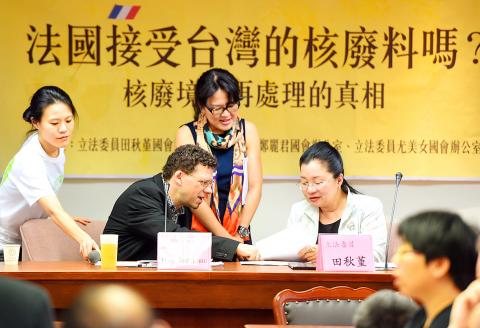 Democratic Progressive Party Legislator Tien Chiu-chin, right, yesterday meets World Information Service on Energy director Yves Marignac, second left, at a public hearing in Taipei about nuclear waste.
Photo: Liao Chen-huei, Taipei Times
Taipower officials have said that the project is a "contingency plan" to resolve storage problems arising from the New Taipei City Government's rejection of the company's dry-cask storage project because of safety concerns.
Marignac said it is wrong to consider nuclear waste reprocessing or any interim waste management options, as any nuclear waste management plan should be viewed from a long-term perspective, instead of seeking expedient, short-term solutions.
He said that most countries that used to provide nuclear waste reprocessing, such as the UK and Russia, are either phasing out or have abandoned the technology.
Furthermore, countries that used to ship nuclear waste abroad for reprocessing — such as Germany, Belgium, Italy, Japan and Switzerland — have abandoned the practice, he said.
They ended the practice because 30 to 40 years after nuclear waste is reprocessed, they still have to deal with the remaining radioactive materials, such as plutonium, Marignac said.
With only one nuclear reactor of a Dutch firm still relying on overseas nuclear waste reprocessing, he said that Taipower's plan is one aimed at "raising the dead."
As for Taipower Department of Nuclear Back-end Management director Wu Tsai-ji's (吳才基) comment that the overseas reprocessing plan was "experimental" and would involve only a small batch of spent fuel rods, Marignac said that the "experiment" would require at least 20 years before coming to any conclusions, and the time would be better spent exploring other ways to address the problem.
Taipower's proposal would only complicate nuclear waste management, as Taiwan would have to put energy into the reprocessing project and would still face the possibility of radioactive materials being shipped back when the contract expires, he said.
As to news that AREVA has won the Taipower bid, Marignac said that the French nuclear waste reprocessing firm is mired in financial problems and warned of a scenario wherein AREVA demands more fees for its service after the contract is executed.
In response, Wu said that AREVA is not the only company being considered by Taipower.
He said that no radioactive materials would be shipped back to the nation according to a clause in a contract.
"Any remaining materials will be the contractor's responsibility to deal with, in its own country," he said.
The contract also contains a clause that says Taipower reserves the right terminate cooperation prematurely if problems should occur, he said.
Comments will be moderated. Keep comments relevant to the article. Remarks containing abusive and obscene language, personal attacks of any kind or promotion will be removed and the user banned. Final decision will be at the discretion of the Taipei Times.