After Cannes, director Hou says next movie to be about Taipei river goddess
Hou Hsiao-hsien (侯孝賢), who won the best director award at the Cannes Film Festival in France on Sunday with his first martial arts film, The Assassin (聶隱娘), said that his next project would be a movie about a river goddess set in the modern era.
Speaking at a seminar in Brussels on Wednesday, Hou said that Taipei used to have many waterways for paddy irrigation, but many of the waterways have since been covered over by roads as a result of urbanization.
If there were a river goddess, she would feel very sad about the situation, Hou said.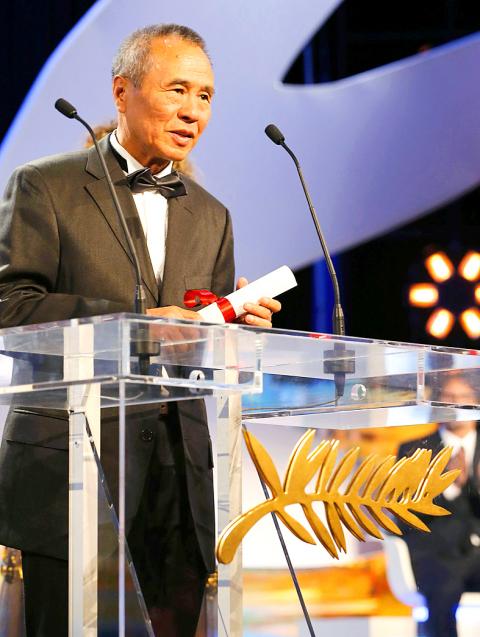 Hou Hsiao-hsien, winner of the best director award for his film The Assassin, speaks during the closing ceremony of the 68th Cannes Film Festival in Cannes, France, on Sunday.
Photo: Reuters
Screenwriter Chu Tien-wen (朱天文) said Hou's new project would be about a waterway enthusiast who encounters a river goddess while studying the city's waterway system.
Actress Shu Qi (舒淇), the protagonist in The Assassin, would play the role of the river goddess, the 68-year-old director said.
The seminar was part of the "Taiwan Film Panorama" and "Hou Hsiao-hsien Retrospective" held by the Belgian Royal Cinematek.
The exhibition began with a screening of The Assassin on Wednesday, with about 260 people from political, economic, social and arts circles in Belgium and the EU attending.
Speaking to reporters, Hou said he is concerned that there are not many directors who are passionate about their craft, with enough conviction to make movies according to their own standards.
Hou said it is tough to be a director in Taiwan because of the pressure to create a box-office success while seeking a balance between one's convictions and the views of movie companies and investors.
"These days in Taiwan, you can hardly find a director with the passion and conviction to simply insist that a movie be shot in a particular way or to say: 'This is how I would like it to be,'" Hou said.
Hou is one of the few Taiwanese directors who are capable of finding funds abroad to support their film ideas.
Still, he has always tried to shoot artistic movies with minimal budgets, he said.
"I know a lot of movie directors would love to shoot grand movies with a big cast and big stars. I don't find it necessary," Hou said.
He said he prefers to use digital cameras and fresh faces as his key actors, which can be done on a smaller budget without the restraints imposed by investors.
To make emotional films, "the most fundamental thing is to have a strong impulse to do so," Hou said. "You also need to have a special feeling about the environment in which you grew up."
On the criticism that The Assassin is not an easy movie to understand because of the complexity of the main character, Hou said: "If you can understand it, just enjoy it; if you can't, why not just appreciate it [as a work of art]."
"There are infinite types of films," he said. "Just watch them in your own way. It's OK to fall asleep in front of the big screen if you're there just out of curiosity about the movie."
Comments will be moderated. Keep comments relevant to the article. Remarks containing abusive and obscene language, personal attacks of any kind or promotion will be removed and the user banned. Final decision will be at the discretion of the Taipei Times.