Bureau set to keep tabs on Hsia-Zhang protesters
National Security Bureau (NSB) officials yesterday said they are monitoring leads regarding a planned protest that might interfere with high-level cross-strait talks set to take place in Kinmen (金門) this weekend.
Bureau Director-General Lee Shying-jow (李翔宙) told legislators during yesterday's meeting of the legislature's Foreign Affairs and National Defense Committee in Taipei that his agency is responsible for the security of officials at a meeting between Mainland Affairs Council Minister Andrew Hsia (夏立言) and China's Taiwan Affairs Office Minister Zhang Zhijun (張志軍).
Lee said the bureau gathered intelligence and met on Tuesday over reports on groups that intend to protest and disrupt the meeting.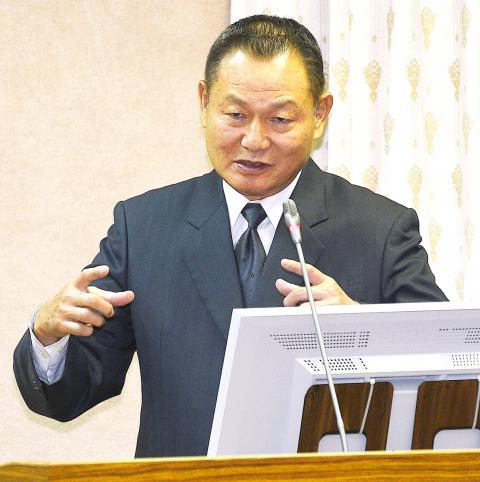 National Security Bureau Director-General Lee Shying-jow yesterday attends a question-and-answer session at the Legislative Yuan in Taipei.
Photo: Chen Chih-chu, Taipei Times
"We are continuing to monitor the situation and following up on developments. Our work is to ensure the meeting can be completed peacefully," Lee said.
The Hsia-Zhang meeting was postponed to this month after the original scheduled talks in February were canceled amid a dispute over China's unilateral decision to establish the M503 flight route and three feeder routes over the Taiwan Strait.
One organization planning to protest at the Hsia-Zhang meeting is the Taiwan Solidarity Union's (TSU) auxiliary group, TSU Youth.
"We have several protests planned, with some of our executives having already arrived in Kinmen and others to join them in coming days," TSU Youth director Chang Chao-lin (張兆林) said. "There are other pro-Taiwanese independence groups heading to Kinmen for the protest and to disrupt the meeting."
"We are against any secret talks to negotiate our political future by government officials who do not represent the opinions and aspirations of Taiwanese. We are fighting against the Ma administration, which is selling out Taiwan to China," he added.
Comments will be moderated. Keep comments relevant to the article. Remarks containing abusive and obscene language, personal attacks of any kind or promotion will be removed and the user banned. Final decision will be at the discretion of the Taipei Times.