Helmets for under-fives lacking: study
INAPPROPRIATE: Experts who reviewed the law in 2012 said children under five could be injured by the motion of motorcycles and said helmet size should not change
A recent study conducted by a Democratic Progressive Party (DPP) lawmaker revealed that there are no motorcycle helmets available in Taiwan for children under five which meet the necessary safety standards.
The study by DPP Legislator Huang Kuo-shu (黃國書) was released just days after an accident in Taichung in which an allegedly drunk driver crashed into a motorcycle carrying a man surnamed Chen (陳) and his son, knocking the two-year-old onto the street, where he was killed by a wound from a bolt attaching a streetlight to the ground.
"Of all the helmets approved by the Bureau of Standards, Metrology and Inspection, the smallest one is designed for children with a head circumference of 50cm, which in an average child would mean they were five or older," Huang's office said.
Democratic Progressive Party Legislator Huang Kuo-shu holds up crash helmets during a news conference in Taichung yesterday.
Photo: Huang Chung-shan, Taipei Times
"That means the parents of children under the age of five are unable to purchase a helmet that is proven to be capable of protecting their children," it said.
Huang said some parents have bought bicycle helmets for their children, but this violates the Road Traffic Management and Penalty Act (道路交通管理處罰條例), which stipulates that only helmets specifically designed to be used on motorcycles or motorbikes meet the necessary standards.
According to the Taichung Police Department, children not wearing a helmet, or those wearing helmets not designed to be worn on motorcycles — such as construction safety helmets — could incur a NT$500 fine.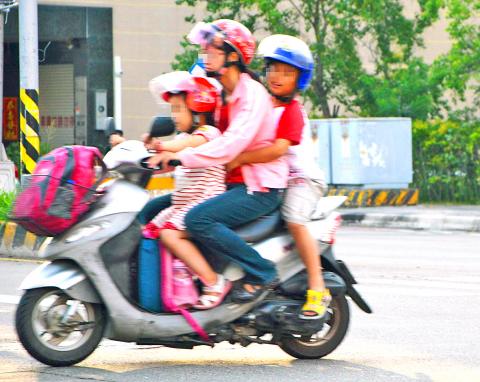 A father transports his children on a scooter in Taichung on Saturday.
Photo: Chang Jui-chen, Taipei Times
The bureau said the nation's 50cm minimum head circumference standard for helmets met international standards and that specialists invited to re-evaluate the stipulation in 2012 advised against revising the size downward.
"They feared that children under the age of five might suffer spinal damage if they are carried on motorcycles, as their necks and spines are still developing and might not be strong enough to bear movements such as braking," the bureau said.
Jing Chuan Child Safety Foundation chief executive Lin Yueh-chin (林月琴) said the foundation has repeatedly advised parents against carrying children below the age of five on motorcycles, because the vehicle does not provide any form of protection like a car does.
"Those carrying children aged five or older are also urged to travel at a speed below 30kph and to avoid main roads," Lin said.
Comments will be moderated. Keep comments relevant to the article. Remarks containing abusive and obscene language, personal attacks of any kind or promotion will be removed and the user banned. Final decision will be at the discretion of the Taipei Times.