Publishers delete democracy references
HUMAN RIGHTS CHAMPION: National Alliance of Parents' Organizations president Wu Fu-pin said the freedom of speech Taiwanese enjoy is the legacy of Deng Nan-jung
The National Academy of Educational Research (NAER) on Saturday displayed six major publishers' latest textbooks revised according to the recently adjusted high-school curriculum guidelines. Among them one publisher was found to have deleted portions from an entry about democracy movement pioneer Deng Nan-jung (鄭南榕).
Deng died 26 years ago when he set himself on fire in defense of "100 percent freedom of expression." On April 7, 1989, Deng, then-editor-in-chief of Freedom Era Weekly, set himself alight as heavily armed police officers attempted to break into his office following 71 days of self-imposed isolation after he was charged with sedition for the anti-government stance of his magazine after it published a draft "Republic of Taiwan Constitution" in 1988.
Textbook publisher Kansi Cultural Co in its previous edition of a civic studies textbook, under the "Human Rights" chapter, had a photograph of a copy of Freedom Era Weekly with a caption reading: "Deng Nan-jung resorted to radical self-immolation to fight for freedom of speech. The photograph is the [weekly's] special edition to mark the 20th anniversary of Deng's death."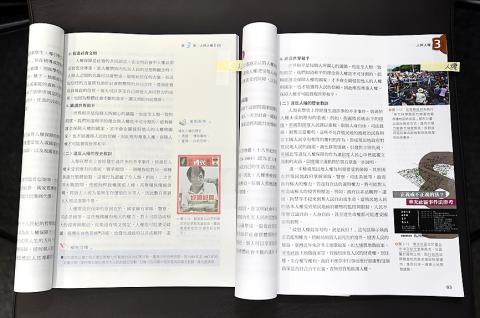 Old, left, and new versions of a civic studies textbook published by Kansi Cultural Co are shown at a textbook exhibition in Taipei on Saturday. An image of late democracy activist Deng Nan-jung appears in the old edition, but not in the new edition.
Photo: Liao Chen-huei, Taipei Times
However, in its new edition of the textbook, Deng's photograph was replaced with information about a land seizure in Miaoli County's Dapu Borough (大埔) in 2011 and seizures in Taipei's Huaguang Community (華光社區) since 2010.
Meanwhile, a paragraph in the original Kansi edition reads: "Human rights need to be protected because the nation (國家) possesses armed forces, police and a justice system, which, with its immense power, might cause great damage and oppression to citizens. Human rights might be abused if they are not written into law."
The original version also mentioned abuses of human rights, including illegal detentions perpetrated by the then-KMT government during the White Terror era.
The revised Kansi edition, in line with the adjusted high-school curriculum guidelines, in reference to the Japanese colonial era, replaced the term "nation" with "colonial government (殖民政府)" — a change educators said "weakened Taiwanese sovereignty and identity."
In response, NAER director Yang Kuo-yang (楊國揚) said the academy would approve any textbooks that do not conflict with the new curriculum guidelines, adding that Kansi's replacement of the Deng incident with land seizures does not constitute an infringement of the new curriculum guidelines.
However, Humane Education Foundation executive director Joanna Feng (馮喬蘭) said that there are always more prominent human rights champions than others, and the omission of Deng by Kansi could be associated with another example of muzzled freedom of speech.
Textbooks are where freedom of speech should be encouraged rather than silenced, she added.
Youth Group in Defense of Taiwanese Culture and History member Lan Shih-po (藍士博) said that in terms of the history of democratic movements, Deng's struggle for freedom of speech was during the highly significant Martial Law era, while the illegal seizure in Dapu was merely a recent collusion between the government and business interests.
"The two [cases] are essentially different, and Deng's contributions are irreplaceable," he said.
National Alliance of Parents' Organizations president Wu Fu-pin (吳福濱) said the freedom of speech that Taiwanese enjoy is the legacy of Deng and earlier activists, and it is inappropriate to redact Deng's contributions as he is a human rights champion.
Meanwhile, the Deng Liberty Foundation issued a statement expressing "deep regret."
"Civic education should help form a Taiwan-centric perspective among next-generation Taiwanese, but the heirs of a foreign, authoritarian regime have taken hold of the power to write history, and erased the White Terror era and massacres of Taiwanese — a serious offense against human rights — to gloss over what it has done and to exploit Taiwanese identity," the statement said.
Additional reporting by Chen Hui-ping
Comments will be moderated. Keep comments relevant to the article. Remarks containing abusive and obscene language, personal attacks of any kind or promotion will be removed and the user banned. Final decision will be at the discretion of the Taipei Times.