'Drafting' Eric Chu might be alright: deputy speaker
Regarding a call for Chinese Nationalist Party (KMT) Chairman Eric Chu (朱立倫) to be "conscripted" to represent the party in next year's presidential election, Deputy Legislative Speaker Hung Hsiu-chu (洪秀柱), a KMT member who signed up for the party's primary, yesterday said she would not oppose the move, but only if it is "sufficiently justified."
As Saturday next week is the last day for potential contenders to sign up for the party's primary, some KMT members are apparently getting anxious over Chu's seemingly strong determination to stay out of the race, and it has now been said that Chu might be "drafted" to represent the party.
Saying the process of collecting signatures for her nomination, which is required by KMT primary rules, "could not be better," Hung yesterday said that she is "okay" with "conscripting" Chu to represent the party, "but only if it is sufficiently justified."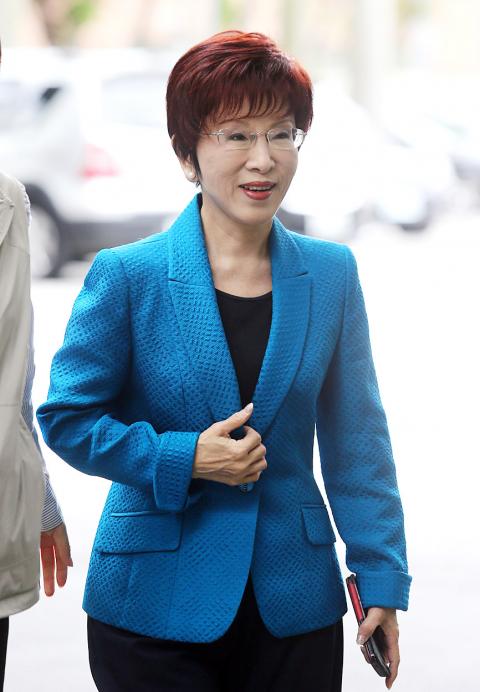 Deputy Legislative Speaker Hung Hsiu-chu arrives at the Legislative Yuan in Taipei on Friday.
Photo: CNA
"The party has set up a primary system that could, after much toil, finally demonstrate the party's resolve to really mean it. If at this point other factors intervene, it would present a bad image to society," Hung said.
The KMT requires potential candidates to collect signatures from at least 5 percent of all party members, about 15,000, for them to be eligible as candidates on Saturday next week.
Hung said she has acquired the needed amount.
"I reached the threshold simply with the signatures from party members who returned a request for signatures that my team sent out," Hung said.
However, former health minister Yaung Chih-liang (楊志良), another KMT member who has signed up for the primary, is facing a significant struggle.
"Everybody knows that I do not belong to a [party] faction. If I did, it would be easier [to reach the threshold]," he said, adding that collecting signatures is "not easy," as, while he might have many KMT-affiliated friends, he does not know as many qualified party members, which, he added, is the same for the Democratic Progressive Party.
He said he has received many signatures, but many of them are not from qualified party members, adding that he might pass the threshold if it were a signature drive open to all.
"I might lose my NT$2 million [US$65,000] deposit if I do not get the 15,000 required signatures," he said.
Yaung said he would accept the party's decision to "enlist" Chu if no one passes the signature threshold and if Legislative Speaker Wang Jin-pyng (王金平) decides not to sign up.
"I would abide by the rules of the game," he said.
Comments will be moderated. Keep comments relevant to the article. Remarks containing abusive and obscene language, personal attacks of any kind or promotion will be removed and the user banned. Final decision will be at the discretion of the Taipei Times.