DPP's China policy draws fire
COY KOO: Independence movement leader Koo Kwang-ming said the timing of Tsai Ing-wen's remarks is relevant to whether he would keep backing her presidential bid
Taiwanese independence movement leader Koo Kwang-ming (辜寬敏) yesterday lashed out at Democratic Progressive Party (DPP) Chairperson and presidential candidate Tsai Ing-wen's (蔡英文) announcement that maintaining the "status quo" would be her China policy.
"If maintaining the status quo is to be the DPP's policy, how could I agree with Tsai?" Koo said in response to media queries for comment on Tsai's policy announcement earlier this month. "It has been 70 years since World War II ended and we have maintained the status quo that whole time, but has Taiwan's [sovereignty] issue been resolved?"
"We have seen our standing in the international community suffer and if we continue to maintain the status quo, we will never have it," Koo said. "Maintaining the status quo would be a fatal wound to the nation."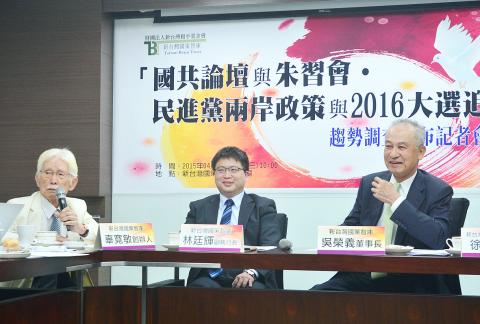 Taiwan Brain Trust founder Koo Kwang-ming, left, speaks at a news conference in Taipei yesterday.
Photo: Wang Yi-sung, Taipei Times
Koo said that Tsai proposed to maintain the "status quo" because the DPP is unable to come up with better cross-strait policies.
"It is the policy that would bring the least trouble," Koo said. "However, it is also the most meaningless one."
Last month, Koo — who encouraged Tainan Mayor William Lai (賴清德) to seek the DPP's nomination to run in next year's presidential election — said he would support Tsai after she won the party's nomination.
However, he seemed to backtrack on that declaration yesterday, saying: "You should find out which came first: my declaration of support for Tsai, or Tsai making the remarks about her China policy."
He did not elaborate on whether he would continue to support Tsai's presidential bid.
Koo, who is also the founder of the Taiwan Brain Trust think tank, made the comments at a news conference in Taipei, which the think tank held to release results of a poll on various political issues.
According to the poll results, 46.8 percent of respondents — including 43.8 percent of pan-green and 35.2 percent of pan-blue supporters — said that Chinese Nationalist Party (KMT) Chairman Eric Chu's (朱立倫) planned meeting with Chinese President Xi Jinping (習近平) would bring negative effects to the KMT's presidential and legislative campaigns.
The poll showed that 61.2 percent of the respondents, including 46.6 percent of pan-blue supporters and 80 percent of pan-green supporters, said they are worried that the KMT-Chinese Communist Party forum would accelerate the government's China-leaning tendency, and thus harm national security.
Taiwan Brain Trust chairman Wu Jung-yi (吳榮義) said the results should be a warning sign to the KMT about its China-leaning policies.
The poll was conducted on Thursday and Friday last week, with 1,068 randomly collected valid samples.
Comments will be moderated. Keep comments relevant to the article. Remarks containing abusive and obscene language, personal attacks of any kind or promotion will be removed and the user banned. Final decision will be at the discretion of the Taipei Times.