Taiwanese husband becomes famous for loyal service to wife
HEN-PECKED HERO? The man who has become a hit online might still need to persuade his wife, who said she was unsure she 'had a real man' prior to their trip
Photographs of a Taiwanese man at an airport pulling two large suitcases, carrying a baby strapped to his chest and wearing a collapsible baby pram on his back have gone viral, with Taiwanese and Japanese netizens calling him the ideal of Taiwanese manhood.
The man, an employee at a bed-and-breakfast in Pingtung County, who prefers to be known only as Charles, said he inadvertently became an overnight sensation after his wife uploaded photographs of him carrying all their luggage during a family trip to Japan in January.
He said that he offered to plan the trip and carry all the luggage because his wife was three months pregnant.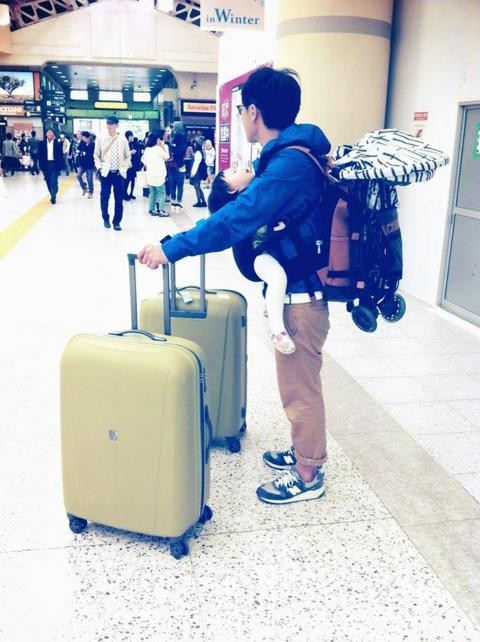 A Taiwanese man, who prefers to be known only as Charles, stands burdened with luggage and his baby at an airport in an undated photograph, originally posted on Facebook.
Photo courtesy of owner
He did not mind when the weight of the luggage increased with the purchase of souvenirs midway through the trip, even though the combined weight of his daughter, her equipment and the suitcases was about 55kg, he said.
The photographs of a burdened Charles first appeared on a Facebook page dedicated to backpacking in Japan, with Charles' wife leaving a message saying: "I did not realize I had a real man in my husband until [we] took a trip to Tokyo with our baby."
"I want everyone to stand witness for me: [Charles] does not love me anymore if he will not carry [luggage] for me," Charles' wife added jokingly.
The Facebook post was translated into Japanese and forwarded to Japanese Web sites, with Japanese netizens dubbing Charles as "a highly intelligent pack animal" and females moved by Charles' uxoriousness saying: "Taiwanese men are so sweet."
Comments will be moderated. Keep comments relevant to the article. Remarks containing abusive and obscene language, personal attacks of any kind or promotion will be removed and the user banned. Final decision will be at the discretion of the Taipei Times.