Nepal turns down offer of help
ON STANDBY: MOFA said Nepal had declined the offer of assistance with search-and-rescue efforts, citing the lack of diplomatic relations and also of direct flights
Nepal has declined Taiwan's offer of help with search-and-rescue efforts after a magnitude 7.8 earthquake hit the Himalayan country on Saturday, Deputy Minister of Foreign Affairs Andrew Kao (高振群) said yesterday.
Kao's comments came as several Taiwanese search-and-rescue teams were getting ready to leave for Nepal to help look for survivors under collapsed buildings.
Answering questions at the Legislative Yuan, Kao said that Kathmandu has only asked for assistance in search and rescue efforts from neighboring countries like China, India and Pakistan, and cited the great distance and the lack of direct flights and diplomatic relations for declining Taiwan's offer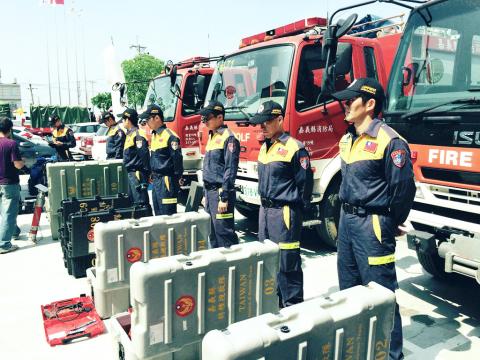 Members of a 21-member Taiwanese search-and-rescue unit stand with their readied equipment in Chiayi County yesterday.
Photo: CNA
Taiwan would still send a team to Nepal to assess the need for medical assistance, which Taiwan stands ready to provide, he said.
According to Ministry of Foreign Affairs (MOFA) spokeswoman Anna Kao (高安), soon after the earthquake occurred, Taiwan's representative to India, who happened to be in Kathmandu at the time, contacted Nepalese officials and told them that the Taiwanese government was willing to provide assistance.
The Nepalese government decided to first ask neighboring countries to send assistance and declined Taiwan's offer at that time, she said, adding that Kathmandu said it would contact Taipei if it needed more help, she added.
In related news, the ministry said that as of 4:30pm yesterday, there are still 21 Taiwanese in Nepal who have not yet been accounted for.
There are a total of 204 Taiwanese tourists in Nepal, but the other 183 people have been confirmed safe, Anna Kao said in an update on Taiwan's efforts to locate its citizens since the earthquake hit Nepal on Saturday, killing thousands.
The Ministry of Foreign Affairs has been obtaining information from its overseas offices, from travel records, travel agencies and the relatives of Taiwan citizens who were in Nepal when the earthquake struck, she said.
She said that a group of 24 National Taiwan University alumni who had traveled to Nepal to climb the Himalayas and had been out of contact since Saturday have now told the ministry that they are all safe.
The main airport in Nepal reopened on Sunday afternoon and flights are being gradually being resumed, Anna Kao said, adding that Taiwanese in Nepal should contact their travel agencies and airlines to arrange their return flights home.
Taiwanese in need of assistance can also call the ministry's representative office in India on the emergency number +919810502610 or the foreign ministry in Taiwan on +886800085095, she said.
The government announced on Saturday that it would donate US$300,000 to Nepal.
The Ministry of Foreign Affairs added yesterday that an account has been set up by the Ministry of Health and Welfare for members of the public to make donations to the relief effort.
Comments will be moderated. Keep comments relevant to the article. Remarks containing abusive and obscene language, personal attacks of any kind or promotion will be removed and the user banned. Final decision will be at the discretion of the Taipei Times.