Court ends KMT appeal; Wang's status restored
PHOENIX? Chinese Nationalist Party (KMT) presidential hopeful Yaung Chih-liang said he would bring the party to ruin so it can be reborn
Legislative Speaker Wang Jin-pyng (王金平) yesterday formally regained his Chinese Nationalist Party (KMT) membership after the Supreme Court rejected an appeal by the party.
The Supreme Court made the decision after the KMT, which has been led by New Taipei City Mayor Eric Chu (朱立倫) since January, failed to submit a required document on the appointment of legal representatives.
Wang yesterday remained tight-lipped about whether he would run for president, dismissing media reports that he would register in the party's presidential primary next week.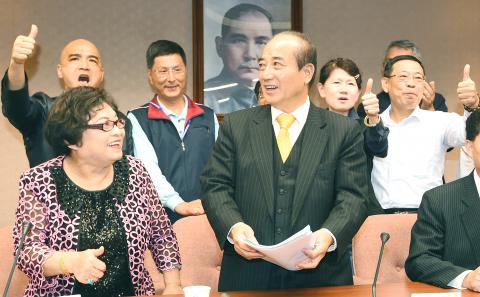 Legislative Speaker Wang Jin-pyng, right, is cheered by members of the Chinese Federation of Labor yesterday at a meeting in Taipei.
Photo: Chang Chia-ming, Taipei Times
Chu announced in February that the party would not pursue the lawsuit against Wang filed in September 2013, when President Ma Ying-jeou (馬英九) was chairman.
Wang took the KMT to court in September 2013 after the party revoked his membership amid allegations that he tried to influence the judiciary to help an opposition legislator in a legal case.
The Taipei District Court and the Taiwan High Court ruled in favor of Wang in March and September last year, deciding that Wang would be able to retain his membership and rights as a KMT member. In October last year, Ma ordered the party to appeal the High Court's ruling.
Separately yesterday, former minister of health Yaung Chih-liang (楊志良) said he would focus his presidential campaign on livelihood issues, as he reiterated his intent to run in the KMT primary.
Yaung told an interview with the Broadcasting Corp of China that he would sign up for the primary on Friday next week.
In an interview with Top TV political commentary show Heavynews (重磅新聞2000立論分明) on Wednesday, Yaung said Taiwan needs socialism, which conformed with public interests and expectations.
However, the KMT and the Democratic Progressive Party (DPP) are in the pockets of corporate giants and have often ignored his suggestions, Yaung said, adding that he has decided to attempt to change the state of affairs.
Yaung said party primary run is a protest against Ma administration and the current political system.
Yaung intends to bring the KMT to ruin so it will be reborn from the ashes, he said.
Social problems are prevalent, with Taiwanese children unable to attend public childcare and young adults either unable to afford housing or with all their money tied up in mortgages, Yaung said.
Talented members of the workforce avoid government jobs and instead look abroad for other employment, while younger people choose to work part-time in New Zealand or Australia instead of working in Taiwan, Yaung said.
None of the heavyweights in the KMT or the DPP is inclined to challenge such a situation, Yaung said.
On cross-strait relations, Yaung said that it was the "Emperor's New Clothes," adding that two or three decades ago, Taiwan was in a position to make its own decisions on being pro-independent or pro-unification.
Now, however, such ability is increasingly restricted by the growing military and economic capability of China, as well as pressure from the US, Yaung said, adding that such decisions could be made only if Taiwan becomes a strong and united nation.
Meanwhile, Yaung rejected an assertion that he had been directed to enter the primaries, saying that he wished only to be in a position to implement his own views.
Yaung also said he was not considering running as an independent, as suggested by former minister of health Yeh Ching-chuan (葉金川).
Comments will be moderated. Keep comments relevant to the article. Remarks containing abusive and obscene language, personal attacks of any kind or promotion will be removed and the user banned. Final decision will be at the discretion of the Taipei Times.