Shinto temple relics stir up Taichung politics
The Taichung City Government yesterday urged Legislative Deputy Speaker Hung Hsiu-chu (洪秀柱) to refrain from politicizing cultural and historic issues, following Hung's criticism of the city government's plan to repair a collapsed torii in the city.
A torii is a structure marking the entrance to a traditional Japanese Shinto shrine, with two vertical poles and a horizontal beam across the top.
In response to Taichung Mayor Lin Chia-lung's (林佳龍) announcement that the city government plans to renovate Taichung Park (台中公園), where the torii is located, to recover the city's "past glory," and "historical identity," Hung said on Facebook that the move praises the nation's colonial rulers and "twists cultural identity."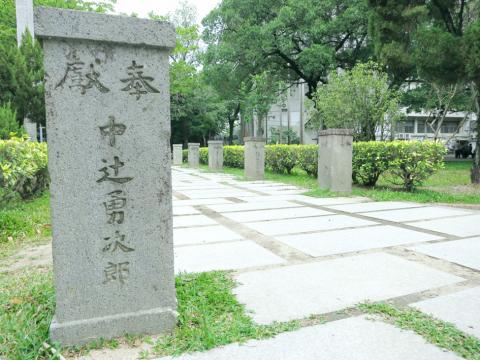 Remnants of a former Japanese Shinto shrine in Taichung Park are pictured yesterday with donors' names marked on them.
Photo: Loa Iok-sin, Taipei Times
"The torii of the [former] Shinto shrine is a symbol of how the Japanese colonial rulers tried to forcibly destroy Taiwanese traditions; it is a humiliating reminder of colonialism, and represents no Taiwanese identity and spirit," Hung said. "If there is any historical resonance to it, what is it other than the pain Taiwan had to suffer once it became a colony? If there is historical identity, what is there besides Japanized identity? How could our local government head so brutally castrate our so-called 'historical identity,' praise the colonialists and call it 'past glory?'"
Taichung City Information Bureau Director-General Cho Kuan-ting (卓冠廷) disagreed with Hung, saying that the torii could enrich the cultural landscape of the park.
"Our project is not only about repairing the torii, the plan is to renovate Taichung park, and repair all the attractions and buildings in the park — including the Taichung Park Pavilion, the North Gate, Zhongzheng Bridge and the night watch tower — and make all of them cultural landmarks in the city," Cho said. "Repairing the Torii has nothing to do with the debate over cultural identity, it is about respecting history, and allowing cultural diversity in this country."
Built in 1908, Taichung Park is the oldest park in the city and the twin pavilion standing in the middle of the park's lake is often described as a symbol of the city.
In the colonial period, there was a Japanese Shinto shrine called Taichu Jinja in the park.
After the Japanese surrender in 1945, the incoming Chinese Nationalist Party (KMT) regime tore down the main building of the shrine, but the remains of the torn-down torii have been left lying in the park.
Comments will be moderated. Keep comments relevant to the article. Remarks containing abusive and obscene language, personal attacks of any kind or promotion will be removed and the user banned. Final decision will be at the discretion of the Taipei Times.