Chu to explain decision to not run for president
SAME OLD STORY: KMT Chairman Eric Chu told reporters they did not need to ask the same questions because he had already given them his answer
New Taipei City Mayor and Chinese Nationalist Party (KMT) Chairman Eric Chu (朱立倫) yesterday said he would explain why he is not running for president after the period for aspirants to sign up ends on May 16.
In response to questions from reporters on Friday, Chu declared his absence from the presidential election scheduled for Jan. 16 next year. However, some KMT party members who have called for his nomination appear to be unwilling to give up hope, saying that Chu's remarks on Friday did not constitute a formal announcement.
Chu said that he would give a clear account of his position on the presidential election after May 16.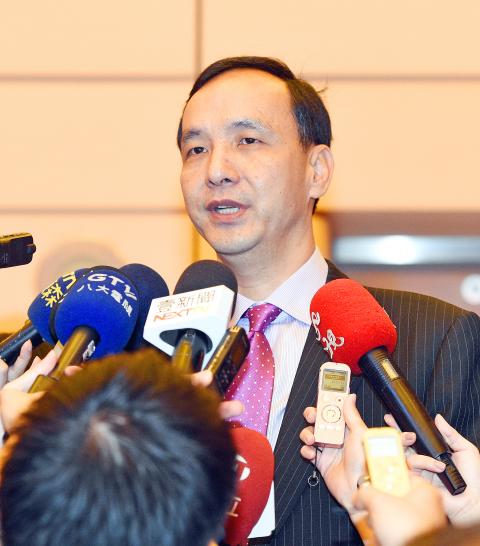 New Taipei City Mayor and KMT Chairman Eric Chu talks to the media in New Taipei City yesterday.
Photo: George Tsorng, Taipei Times
"You do not need to ask me the same questions, do you?" Chu said in response to media queries upon arriving at the headquarters of the Republic of China Women's Association to celebrate the 65th anniversary of the KMT-affiliated organization. "There is no need to repeat what has already been said."
Chu again urged KMT members who wish to serve the nation to make their bid public as soon as possible to show that the KMT is committed to a successful presidential campaign.
"As party chairman, I sincerely hope the KMT field the best and most suitable presidential candidate, and that all party members unite in support of the candidate to provide Taiwan and the Republic of China a better future," Chu said.
According to the KMT's nomination rules, presidential aspirants are required to collect signatures from at least 5 percent of the party's 300,000 members to endorse their candidacy during the 27-day registration period from tomorrow to May 16, and to pay a NT$2 million (US$64,181) refundable deposit and NT$7 million to subsidize the primary.
In response to a report in the Chinese-language China Times yesterday quoting an unnamed KMT source as reporting that the party could order Chu to represent the party in the election if no one else registers as a candidate before May 16, Deputy Legislative Speaker Hung Hsiu-chu (洪秀柱) said: "How could it be possible?"
"I have said I would take part in the primary, have I not?" Hung said, adding that she has NT$2 million ready and would pick up an application form tomorrow.
Comments will be moderated. Keep comments relevant to the article. Remarks containing abusive and obscene language, personal attacks of any kind or promotion will be removed and the user banned. Final decision will be at the discretion of the Taipei Times.