Firefly population falls as tourism damages habitats
Tourist misbehavior has damaged firefly habitats in Yunlin County and led to a decline in the local firefly population, with two environmental groups deciding to cancel their annual firefly-watching tours this year due to environmental concerns.
The county's mountainous areas are home to a variety of firefly species, with at least 14 nocturnal species found in Gukeng Township's (古坑) and Huashan Village (華山), including the most populous Luciola hydrophila, Yunlin Ecological Conservation Corp said.
Corporation director Wu Teng-li (吳登立) said that firefly tourism is most popular in April and May, and that the organization meant to raise ecological awareness and promote habitat conservation by conducting firefly-watching tours.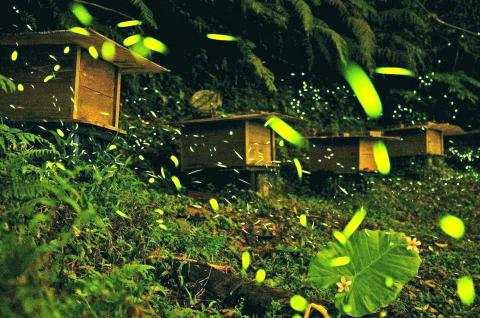 Fireflies in Ankeng in New Taipei City's Sansia District sparkle on Thursday night.
Photo provided by the Ankeng Borough Warden Office
However, it took just a few years for the corporation to see its decade-long conservation efforts negated by tourism, he said.
Wu said a group of elementary-school students went on a school trip to Huashan with insect collecting kits to capture fireflies, and told him that they were simply following their teacher's instructions.
He managed to persuade the children to release the glowworms they captured, but the insects were on the verge of death, he said.
There was also a group of college students who tried to drive into the environmental area without permission and bellowed at the conservation volunteers who tried to stop them from entering.
"There is no law prohibiting [driving in the area]," they shouted.
Environmental conservationist Chang Hsiu-li (張秀荔) said that it took her family more than 10 years to restore firefly habitats at the family estate in Shanfong Community, which has become a popular tourist attraction.
Tourists should refrain from disturbing or capturing fireflies, because they are very delicate and sensitive to human presence, she said.
However, tourists tend to ignore the warning and often scare the insects by talking loudly or using camera flashes, she said, adding that some tourists distribute plastic bags to capture fireflies.
The local firefly population has decreased drastically due to damaged habitats, and the firefly-watching tours at Shanfong has been canceled this year to restore the habitat, she said.
Community volunteers are to take turns standing guard at the entrance to the estate to prevent tourists from intruding and give fireflies a safe environment, she said.
Comments will be moderated. Keep comments relevant to the article. Remarks containing abusive and obscene language, personal attacks of any kind or promotion will be removed and the user banned. Final decision will be at the discretion of the Taipei Times.