Groups demand air quality action
STANDARDS: The EPA said it is thinking about raising its standards for air quality, but has a priority to control pollutants where they are released
Representatives from several environmental groups protested outside the Legislative Yuan yesterday morning, urging the government to set stricter regulations to prevent further deterioration of the air quality in southern Taiwan.
Protesters said that they were enraged by a statement made by Premier Mao Chi-kuo (毛治國), who said that people cannot find high-tech jobs in southern Taiwan.
The protesters said that what Mao will not find in southern Taiwan is clean air, which they need for a healthy life.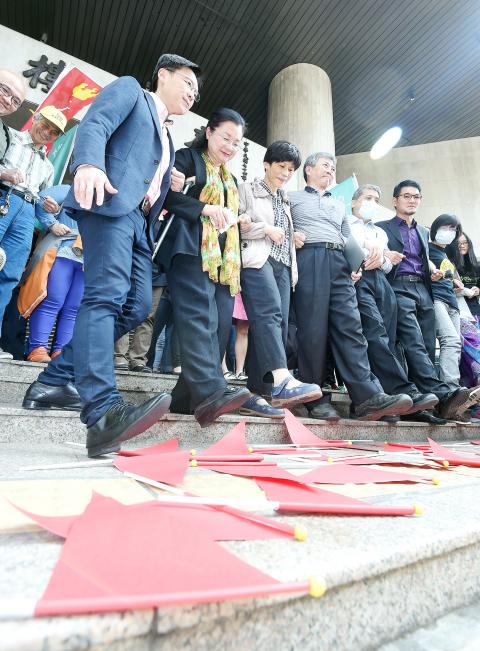 Representatives from environmental groups protest outside the Legislative Yuan in Taipei yesterday morning, urging the government to set stricter regulations regarding air quality in southern Taiwan.
Photo: Fang Pin-chao, Taipei Times
They asked how people in the south are able to find jobs without being in good health.
Regulations say that schools are obliged to fly a red flag when the pollution standard index reaches 100 or PM2.5 levels exceed 36 micrograms (mcg) per cubic meter. The flag means that people with certain health issues should avoid outdoor activities and be aware of changes in their health.
PM2.5 is an indicator of airborne particles measuring 2.5 micrometers or less.
Citizen of the Earth Foundation Taipei office director Antonio Chou (周東漢) said that an experiment had been conducted in an elementary school in Kaohsiung's Zuoying District (左營) from November last year to last month that showed a red flag was raised on 64 of the 85 school days during the period.
Chou said the findings showed that people in southern Taiwan should not engage in outdoor activities 75 percent of the time.
Foundation deputy executive director Wang Min-ling (王敏玲) said that she is used to wearing a face mask all year round having lived in the Kaohsiung-Pingtung County area for many years.
Wang said that the air is dense with particulate matter from autumn to spring, adding that the air quality changes for the better in summer, but ozone issues arise when the weather is hot.
The average ozone density in Kaohsiung's Linyuan District (林園) in October last year was 58.5 parts per billion (ppb), which was higher than the government standard of 30ppb, she said.
She asked why 3.61 million residents in Kaohsiung and Pingtung County should continue putting up with contaminated air.
The PM2.5 standard set by the Environmental Protection Administration (EPA) for safe values is between 35mcg and 53mcg per cubic meter, she said, but the WHO has a 25mcg per cubic meter standard.
Using the WHO's standard, children could never play outside, she said.
"A study showed that the risks of not exercising are similar to those associated with high blood pressure, Wang said. How can people in the south go outside and exercise in these circumstances?"
Taiwan Healthy Air Alliance founder Yeh Guang-peng (葉光芃) said that Puli Township (埔里) in Nantou County as well as Mailiao Township (麥寮) in Yunlin County have the poorest air quality in Taiwan.
While Puli residents are set to march on Saturday [tomorrow], the central government is still sleeping, Yeh said.
Chen Hsien-heng (陳咸亨), director-general of the EPA's Department of Air Quality Protection and Noise Control, said that the administration is considering raising its standards for air quality.
However, its focus is on regulating pollutants at their source, Chen said.
Chen said that the move by six cities and counties in southern Taiwan to ban the burning of coke and coal was admirable, but a similar move nationwide would require further consideration.
Comments will be moderated. Keep comments relevant to the article. Remarks containing abusive and obscene language, personal attacks of any kind or promotion will be removed and the user banned. Final decision will be at the discretion of the Taipei Times.