Parrot inspires school pet program
A stray African gray parrot that landed in a vocational high school in Tainan became the inspiration for the city's first care and management program for pets, a high-school curriculum that is only the second of its kind in the nation.
Tainan Liuhsin Senior High School principal Huang Wen-sheng (黃文生) said that a disheveled and scraggly parrot, apparently in distress, was found on the campus and was captured four years ago.
School official Hsuan Tseng-hua (宣增華) said he tracked down the owner, who showed no inclination to keep the parrot, so the school decided to adopt the bird.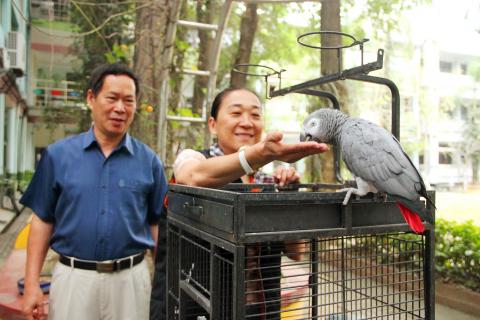 Tainan Liuhsin Senior High School principal Huang Wen-sheng, left, watches as the school's pet parrot, Hsiao-kuai. is fed at the school on Saturday last week.
Photo: Huang Wen-huang, Taipei Times
The quick-witted parrot was nearly booted out of its newfound home for being too smart for comfort. It quickly picked up a few songs and learned to whistle like an officer, and was not shy about showing off its talent by disrupting classes, prompting a proposal to send it away, Huang said.
The faculty and students proposed a school referendum to settle the matter, with 95.1 percent voting in favor of keeping the bird and naming it Hsiao-kuai (小乖), Huang said, adding that the bird has since become "a staff member."
Taking care of the animal was not easy though, he said.
During the first few months after the adoption, the parrot plucked its feathers and damaged its skin, which veterinarians said was a disorder associated with depression, Huang said.
Its condition improved after students began looking after the bird on their own initiative, he said.
Interaction between the parrot and students gave rise to the idea of starting a department specializing in pet care and management, Huang said.
The massive growth in the pet industry has been associated with the nation's low birth rate, with more people looking after pets instead of raising children, he said.
Animal care has grown into an enormous industry, with the Ministry of Labor planning to start a certification program in pet grooming, he said.
However, few existing educational institutions provide animal care programs other than veterinarian training, while there is a great shortage of viable programs in pet care and management, he said.
It took more than a year for the school to organize a department specializing in pet care and management before it secured the Ministry of Education's approval, he said.
The department is set to start in September, with about 50 students to be admitted, Huang added.
"A love for pets can be used to motivate students," Huang said.
Comments will be moderated. Keep comments relevant to the article. Remarks containing abusive and obscene language, personal attacks of any kind or promotion will be removed and the user banned. Final decision will be at the discretion of the Taipei Times.