FDA probing firms over origin of tainted rose tea
The Food and Drug Administration (FDA) is investigating which parties are responsible for the falsification of country of origin documents for rose tea ingredients used by tea chain Stornaway (英國藍) that were found to be laced with pesticides.
Dubbed the "poison of the century," dichloro-diphenyl-trichloroethane (DDT), can enter the human body via contaminated food, water and air, and can cause chronic effects on the nervous system, causing excitability, tremors and seizures.
Some research has also associated the pesticide, which has been banned by many countries, including Taiwan, since the 1970s, with increased risks of breast cancer.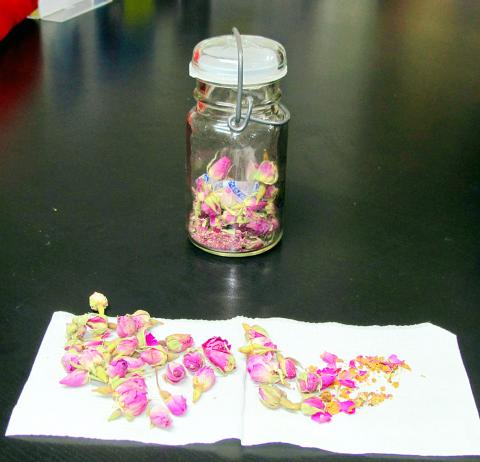 Rose buds imported by Kaohsiung's Yuen Yeeh Enterprise Co are displayed yesterday. The buds might be toxic as a rose tea drink sold at tea store chain Stornaway was found to contain traces of DDT on Tuesday.
Photo: CNA
A preliminary investigation by the agency showed that Stornaway purchased the tainted ingredients from Taipei-based Chou Chieh Trading Co (洲界貿易), which procured the products from its supplier, Kaohsiung-based Yuen Yeeh Enterprise Co (原宜貿易), FDA Director-General Chiang Yu-mei (姜郁美) said.
Chiang said customs documents showed that Yuen Yeeh imported a batch of rose buds weighing 4,500kg from Iran on Aug. 7 last year, 80kg of which was sold to Stornaway and the rest to Chinese medicinal shops, according to Chou Chieh.
FDA Southern Center deputy director Liu Fang-ming (劉芳銘) said that because the ingredients were falsely labeled as being from Germany, the agency has instructed health authorities to ascertain whether it was Chou Chieh or Yuen Yeeh that tampered with the country of origin label.
The case was first brought to light by the Miaoli County Government's Public Health Bureau on Tuesday after it found 11 kinds of pesticides, including DDT, in a sample of rose buds it collected from one of Stornaway's 96 branches in the county last month.
The test was conducted in response to an anonymous complaint filed by a customer who felt sick after drinking a cup of rose iced tea purchased from the store.
All the potentially problematic ingredients, weighing 70kg in total, had been recalled and confiscated before April 7, Taipei City Department of Health said in a press release yesterday, adding that none of the Stornaway's 26 branches in the city were still selling rose iced tea.
The FDA said individuals found lacing food products with excessive levels of pesticides can be fined between NT$60,000 and NT$200 million (US$1,915 and US$6.38 million), while the act of falsifying food labels is punishable by a maximum fine of NT$4 million.
Comments will be moderated. Keep comments relevant to the article. Remarks containing abusive and obscene language, personal attacks of any kind or promotion will be removed and the user banned. Final decision will be at the discretion of the Taipei Times.