Presidential poll fails to sway Eric Chu
IM-POLL-ITE? The Presidential Office dismissed a report saying that Chu avoided taking telephone calls from President Ma Ying-jeou after the elections last year
New Taipei City Mayor and Chinese Nationalist Party (KMT) Chairman Eric Chu (朱立倫) yesterday reiterated his promise to serve out his mayoral term after a poll found him the most desirable presidential candidate among pan-blue supporters with a good chance to beat Democratic Progressive Party (DPP) Chairperson Tsai Ing-wen (蔡英文).
The Chinese-language United Daily News yesterday published a survey coinciding with the nomination of Tsai as the DPP's presidential candidate.
According to the poll, which was conducted on Monday and pitted Tsai against Chu, Tsai led Chu by 8 percentage points, a narrower gap than the 13 percentage points in the newspaper's previous survey on Feb. 8.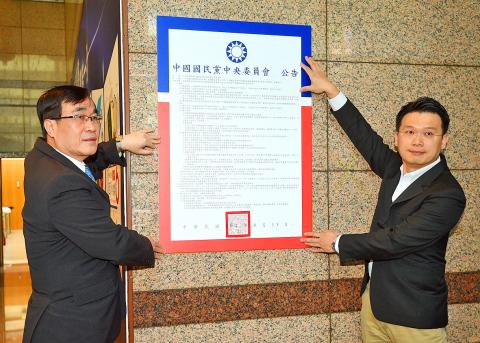 Chinese Nationalist Party (KMT) Secretary-General Lee Shu-chuan, left, and KMT Organization and Development Committee director Su Chun-pin yesterday post an announcement on the registration process for presidential hopefuls at the KMT's Taipei headquarters.
Photo: Wang Min-wei, Taipei Times
The latest poll showed that support for Tsai was 42 percent against 34 percent for Chu, with 24 percent undecided, compared with the poll in February that showed Tsai with a support rate of 47 percent against Chu's 33 percent, with 20 percent undecided.
If Legislative Speaker Wang Jin-pyng (王金平) represented the KMT, Tsai had approval rating of 42 percent against Wang's 28 percent, with 10 percent of the respondents saying neither of them was their preferred candidate, compared with 6 percent in the case of the KMT being represented by Chu, and 21 percent undecided, the poll showed.
The poll showed that Tsai had support of 57 percent if the KMT nominated Vice President Wu Den-yih (吳敦義) and 60 percent support if Deputy Legislative Speaker Hung Hsiu-chu (洪秀柱) won the KMT nomination.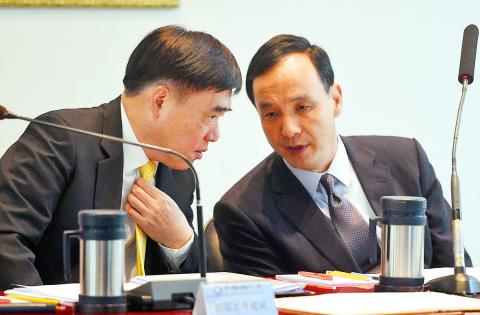 Chinese Nationalist Party (KMT) Chairman Eric Chu, right, and KMT Vice Chairman Hau Lung-bin exchange opinions at a Central Standing Committee meeting in Taipei yesterday.
Photo: Wang Min-wei, Taipei Times
Among respondents who identified themselves as supporters of the pan-blue camp, 64 percent said they wanted Chu to throw his hat in the ring, while 25 percent said they did not, according to the United Daily News report.
Forty-six percent of pan-blue supporters said that Chu should express his resolve to run for president, the report said, while 39 percent had some reservations because New Taipei City is the only municipality governed by the KMT after the party was routed in last year's nine-in-one elections.
"I will do a good job as a mayor and complete my term," Chu said when asked to comment on the findings of the poll, repeating earlier comments.
Elsewhere, Wang said that he did not pay attention to opinion polls, when asked about ranking behind Chu in the survey.
The KMT began its presidential nomination procedure yesterday, with the selection rules and schedule being posted at the party's headquarters.
"As the ruling party, we still have a lot of room for improvement," Chu said. "We will try hard to recruit young talent so the party can emerge from the bottom of the pit."
The KMT is to nominate its presidential candidate at its party congress scheduled for the middle of July.
Results of the party primary, with members' votes being weighted at 30 percent and a public poll at 70 percent, are to be announced on June 14.
In other news, Presidential Office spokesperson Charles Chen (陳以信) dismissed a report in the latest issue of the Chinese-language Next Magazine, which said that Chu had twice deliberately avoided answering telephone calls from President Ma Ying-jeou's (馬英九) after the nine-in-one elections on Nov. 29 last year, when then-KMT chairman Ma was anxious to get Chu to agree to run for the chairmanship to prop the party up after he stepped down from the position.
However, Hung confirmed the report, saying she was asked by Ma to call Chu on the president's behalf to convey the message that Ma wished him to run for chairman.
Additional reporting by CNA
Comments will be moderated. Keep comments relevant to the article. Remarks containing abusive and obscene language, personal attacks of any kind or promotion will be removed and the user banned. Final decision will be at the discretion of the Taipei Times.