Wielding firecrackers, monkey-chasers to start work on Monday in Gukeng
Yunlin County has recruited and trained seven people to chase monkeys away from farms in the county, which has a large population of Formosan macaques.
The seven, selected from more than 30 applicants, are to soon begin work in the mountains of Gukeng Township (古坑). Their primary tactic is to employ firecrackers to deter the primates.
It is better to use firecrackers to scare off the animals than to erect electrified fencing or adopt sterilization to reduce their numbers, the township administration said.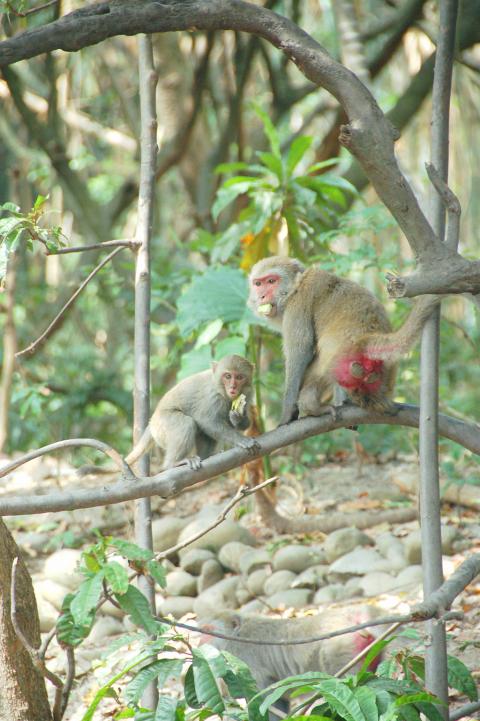 Two Formosan macaques, also known as Formosan rock monkeys, plunder fruit and crops in Yunlin County on Friday last week.
Photo: Huang Shu-li, Taipei Times
The administration said the job of "monkey-chaser" is more difficult than it may seem and that most recruits are older farmers, although it also received applications from young people with college degrees.
The chasers are to start work on Monday at a salary of NT$24,000 per month.
The Formosan macaque, also known as the Formosan rock monkey, is native to Taiwan.
It once faced extinction due to human hunting before being listed as "precious and rare" and placed under strict protection, in accordance with the 1989 Wildlife Conservation Act (野生動物保育法).
By 2009, the Formosan macaque population had surged to 250,000, leading the Council of Agriculture to downgrade the species' status to "conserved."
Comments will be moderated. Keep comments relevant to the article. Remarks containing abusive and obscene language, personal attacks of any kind or promotion will be removed and the user banned. Final decision will be at the discretion of the Taipei Times.