Eco-burials on the rise: ministry
REST IN PEACE: More than 16,000 people since 2001 have adopted alternative burial methods, such as tree or flower burials, a top Department of Civil Affairs official said
More people are seeking eco-friendly burials, with 7 percent of people still using traditional burials, the Ministry of the Interior said yesterday, releasing its latest statistics on funereal preferences to coincide with Tomb Sweeping Day today.
The statistics show that 92.83 percent of people are cremated after they die.
Department of Civil Affairs division head Tang Keng-shen (唐根深) said an elderly woman in Tainan filed a request with the Tainan Danei Tree Burial Special Zone several months before she died to be buried there.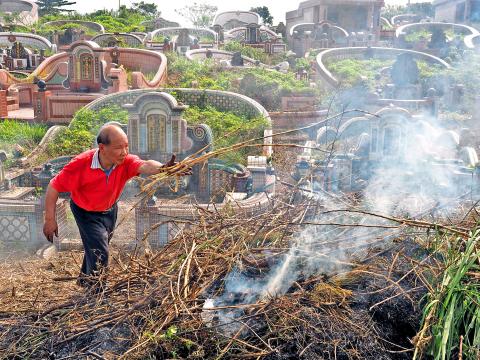 A man burns brush and wild grass at a cemetery in Yilan County yesterday, before today's Tomb Sweeping Day.
Photo: EPA
He said that the woman had not informed her family members of her decision, and it was not until after she was cremated that an employee at the crematorium told family members that she had registered for a natural burial.
He said her family members were at first surprised at her decision, but later obliged to her desire to "bond with nature."
Due to limited space, most Taiwanese opt for cremation, and the number of people who say they would prefer to be buried has decreased sharply, Tang said.
Even though more people have embraced environmental burial methods, the number of people choosing natural burial make up just about 1 percent of the number of people cremated, he said.
Since the ministry began promoting eco-friendly burials in 2001, more than 16,000 people have adopted alternative burial methods, such as tree burials or flower burials, he added.
There are 29 natural burial sites at public cemeteries nationwide, including the Yongai Sanctuary and Jhengshan Sanctuary in Taipei; the Sanjhih Cherry Blossoms Sanctuary of Lives in New Taipei City; the Gueisih Sanctuary in Taichung; and the Tainan Danei Tree Burial Zone.
Aside from tree burial, the most popular among natural burial methods, Taipei, New Taipei City and Taoyuan together hold an annual sea burial ceremony, which has served more than 1,000 people since it was introduced in 2001.
Tree and flower burials involve placing ashes into biodegradable urns and burying them among groves at natural sites, Tang said.
Family members of the deceased do not burn ghost money at natural burial sites, instead mourning their loved ones in silence, he said.
Comments will be moderated. Keep comments relevant to the article. Remarks containing abusive and obscene language, personal attacks of any kind or promotion will be removed and the user banned. Final decision will be at the discretion of the Taipei Times.