FEATURE: White Wolf's interest in labor raises eyebrows
CONFLICT OF INTERESTS? The former Bamboo Union leader has offered financial help to labor groups when they have been planning protests against the government
Chang An-le (張安樂) — better known by his Bamboo Union nickname "White Wolf" — has caused a minor stir by donating NT$100,000 at a fundraising event for the Taiwan International Workers' Association (TIWA) earlier this month.
Chang said he made the donation on March 9 out of admiration for association's efforts to advocate for workers' rights, activists said his record of interaction with labor movements suggested a less altruistic motive.
Over the past two years, Chang has repeatedly offered to "provide assistance" to workers' groups, in an apparent attempt to dissuade the groups from staging demonstrations against the Chinese Nationalist Party (KMT) government, labor activists said.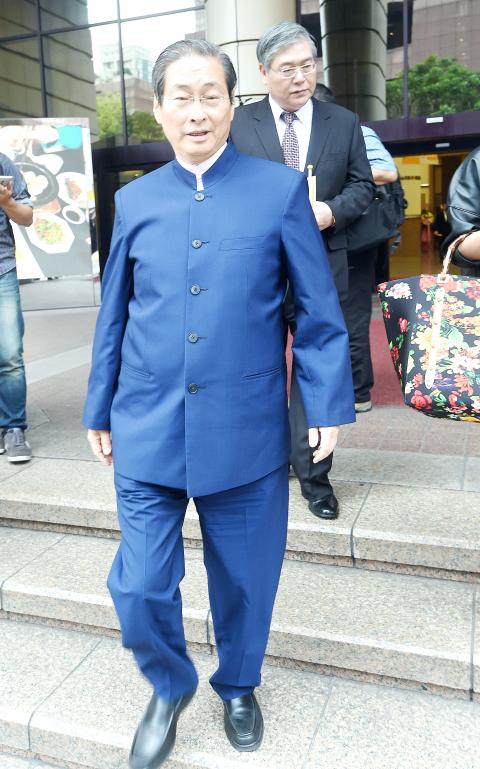 China Unification Promotion Party Chairman Chang An-le, also known as the "White Wolf," attends the founding conference of the Minkuotang in Taipei on Wednesday last week.
Photo: Fang Pin-chao, Taipei Times
TIWA member Chen Su-hsiang (陳素香) described her first encounter with Chang in 2013 as an "exchange of blows" that was decided in favor of labor groups, in part because of a connection forged three decades ago.
Chang made plans in November 2013 to organize a rally to counter a demonstration planned by labor activists outside the KMT's 19th national congress in Taichung, which President Ma Ying-jeou (馬英九) was to attend as then-party chairman — a protest that eventually saw laid-off workers hurl thousands of shoes at Ma.
However, prior to the congress, Chang held negotiations with labor activists and then announced that his counter-rally would not be held. Instead he offered to raise NT$30 million (US$956,600) in donations for the laid-off workers — who were in the midst of a legal battle with the Council of Labor Affairs — and urged the workers to "replace shoe-throwing with harmony."
Chen said Chang changed his mind about the counter-rally after he found out that Chen had work as a journalist in the 1980s at the anti-authoritarian Progress Magazine (前進雜誌).
Chen said Chang was grateful for the magazine's coverage on the Bamboo Union's role in the murder of Chinese-American journalist Henry Liu (劉宜良) — who wrote a biography of then-president Chiang Ching-kuo (蔣經國) under the pen name Chiang Nan (江南).
Liu's killing at his California home in 1984 made waves in both Taiwan and the US, after it was revealed that KMT intelligence officials had ordered Bamboo Union members to assassinate Liu, leading to deteriorating relations between the KMT administration and the US.
Chang, then in the US, attempted to rescue the three Bamboo Union members wanted for the murder by spreading false information about the case at a press conference. He was later arrested by US police on charges of drug trafficking and spent the next 10 years behind bars.
"Basically they got locked up after they were exploited by the National Security Council to assassinate Chiang Nan — they were betrayed," Chen said, speaking about the Bamboo Union members who were later incarcerated by the KMT government when they returned to Taiwan.
"The White Wolf felt that our magazine spoke in favor of them back then, so he always held a feeling of gratitude," Chen said, adding that Chang seemed shocked when she told him that she had reported about him three decades ago.
Labor groups refused Chang's NT$30 million offer — including a NT$2 million personal donation — saying that the movement demanded more than just compensation for the laid-off workers, as institutional reforms were just as important.
During TIWA's fundraising event this month, Chang vowed to make a monthly donation of NT$10,000 by credit card in addition to the initial NT$100,000 donation, which he presented in a red envelope.
He also offered again to make a NT$2 million donation, which TIWA members again refused.
Chen said that the group accepted donations of under NT$100,000 — regardless of the giver's background — but refused to accept large donations.
Chang, who returned to Taiwan in June 2013 after spending 17 years hiding in China after fleeing the country in 1996 while wanted for alleged violations of the Organized Crime Prevention Act (組織犯罪防制條例), has been an outspoken proponent of unification with China.
As the chairman of the China Unification Promotion Party (CUPP), he made headlines last year by leading a clamorous rally during the Sunflower movement protests outside the Legislative Yuan.
Chang also made contact last year with the Former Freeway Toll Collectors Self-Help Organization, a labor rights group launched with assistance from TIWA in January last year, after about 1,000 toll collectors lost their jobs when the government switched toll collection on the nation's freeways to an all-electronic system.
The group's president, Sun Hsiu-luan (孫秀鑾), said that Chang contacted her "about five to six times," following a series of protests the toll collectors staged at KMT campaign rallies and various government agencies.
"Following the protest where we went to Ma Ying-jeou's house to throw shoes [over the walls of the president's residence], the White Wolf called me, saying that he wanted to meet us," Sun said.
She said that Chang was "very courteous" and expressed his desire to "stand in unity with the workers," adding that Chang insisted that the toll collectors to discuss their problems with him in person.
Despite Chang's repeated efforts, the former toll collectors told him that they were "extremely busy" and never arranged a meeting with him, Sun said.
"He made a point of saying: 'Your demands have reached President Ma Ying-jeou already,'" she said, adding that Chang did not elaborate on how he intended to "provide assistance" to the workers.
Comments will be moderated. Keep comments relevant to the article. Remarks containing abusive and obscene language, personal attacks of any kind or promotion will be removed and the user banned. Final decision will be at the discretion of the Taipei Times.