Tsai issues call for antinuclear protest support
NUCLEAR-FREE GOAL: The DPP leader criticized the president for failing to keep up with neighboring nations in seeking alternatives to nuclear-powered energy
Democratic Progressive Party (DPP) Chairperson Tsai Ing-wen (蔡英文) yesterday called for DPP members to participate in antinuclear demonstrations set to take place across the nation on Saturday.
"Four years ago, we witnessed — along with all of humanity — the price we have to pay for nuclear power. We have also witnessed since then the actions of many countries, who have, after self-reflection, made moves to speed up the development of alternative energy sources and the adjustment of their energy and industry policies, in order to be able to welcome the advent of a non-nuclear homeland sooner," Tsai said, referring to the nuclear disaster that unfolded in Fukushima, Japan, following a tsunami in 2011. "Among all these actions, the DPP's '2025 nuclear-free homeland' is one."
Tsai said that President Ma Ying-jeou (馬英九) has failed to pursue the goal of a nuclear-free Taiwan in the past few years, "while South Korea's capital, Seoul, has launched a policy plan of 'One Less Nuclear Power Plant' and in merely two years cut energy consumption equivalent to the electricity generating capacity of a Fourth Nuclear Power Plant."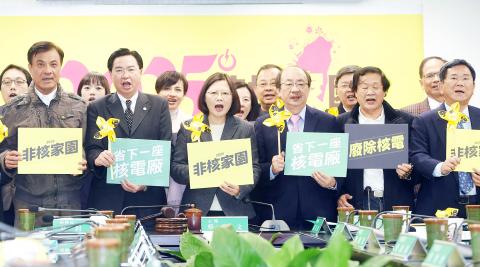 Democratic Progressive Party (DPP) Chairperson Tsai Ing-wen, third left, yesterday reiterates the DPP's antinuclear stance before a Central Executive Committee meeting at the party's headquarters in Taipei.
Photo: Lo Pei-der, Taipei Times
"There is no reason for Taiwan to lag behind when a city has shown its resolve by carrying out actions," she said.
Tsai called on the nation to initiate a similar plan and take action now, with the final goal being a nuclear-free Taiwan.
"The DPP is starting from the 13 cities and counties it governs, where energy saving, improving energy efficiency and promoting green energy will be approaches for weaning people from dependence on nuclear power," she said. "We will also put forward a new energy policy and make progress toward the goal of a 2025 nuclear-free homeland when the party governs the country."
Saturday's antinuclear rallies, organized by the National Anti-Nuclear Action Platform, are to take place in Taipei, Kaohsiung, Tainan and Taitung.
"I'm officially issuing a mobilization order to the party for the 314 antinuclear rally, in which the party will be standing with the people of the nation for a future without fear," Tsai said.
Comments will be moderated. Keep comments relevant to the article. Remarks containing abusive and obscene language, personal attacks of any kind or promotion will be removed and the user banned. Final decision will be at the discretion of the Taipei Times.