Researchers tout heart cell findings
REPAIR WORK: Patrick Hsieh said his group's five-year project contradicts a US team's work that found that blood cells were not able to transform into heart cells
Scientists from the Academia Sinica yesterday unveiled research findings that offer new hope for tools to combat heart failure.
They said five years of research showed circulating blood cells contribute to heart cell regeneration after a heart attack by fusing with heart cells (cardiomyocytes).
Team leader Patrick Hsieh (謝清河), an associate researcher at the Institute of Biomedical Science, said his team has discovered that heart inflammation triggered during the early stage of heart injury is essential for effective heart cell regeneration.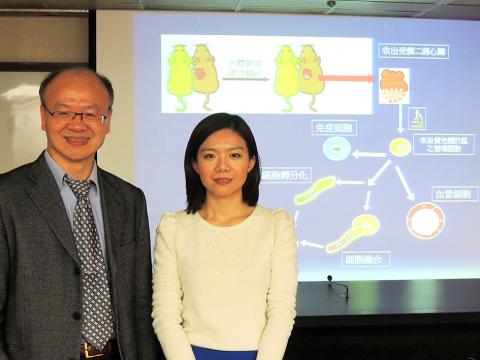 Patrick Hsieh, left, an associate researcher at Academia Sinica's Institute of Biomedical Science, yesterday poses with doctoral student Wu Mei-fang at a news conference in Taipei to announce his team's findings.
Photo: Tang Chia-ling, Taipei Times
However, their findings contradict those of a team led by former Stanford University researcher Bob Robbins — published in 2004 in the journal Nature — that said blood cells were unable to transform into heart cells, Hsieh said.
Robbins' team used a parabiotic animal model — surgically joining two animals so that they share circulation, he said.
Hsieh said the difference in the two groups' findings prompted him to experiment on the right timing to establish parabiotic circulation, so that early signals of inflammation in the heart can be promptly and effectively transmitted between test subjects.
By employing real-time molecular imaging in combination with Cre-Lox transgenic mice to pulse-trace blood stem cell genesis in the surgically conjoined animals, Hsieh's team found that parabiosis between the rodents requires at least one week to become stabilized, he said.
Once that has been achieved, heart attacks can been induced in the recipient mice to achieve useful test results, Hsieh said.
The results showed that hematopoietic stem cells — the cells in charge of forming blood cells — of the label mouse begin to enter the recipient's heart about one week after the recipient has had a heart attack, about which time the stem cells turn into heart cells by trans-differentiation and fusion with existing cells, Hsieh said.
He said the process, which also occurs in humans, begins at one week after a heart injury and is transient — something Robbins' team failed to identify.
He said this team found two other flaws in the work by Robbins' team — that from the beginning they used mice that had been given heart attacks, when parabiosis was still unstable, and then they waited up to a month before analyzing their results, which found that none of the label mice's blood stem cells had circulated to the recipient's heart.
Hsieh said his team's discovery is significant because it successfully challenged the widely held view that no blood circulation cells can contribute to cardiomyocyte regeneration, as well as offering new prospects for preventing heart attacks.
Drugs developed based on his team's discovery would significantly improve traditional therapies targeting heart failure, he said.
"Although we still have a long way to go, we hope to develop drugs to strengthen the process of hematopoietic stem cells entering the heart so that patients can benefit from natural, endogenous cardiomyocyte regeneration," Hsieh said.
Comments will be moderated. Keep comments relevant to the article. Remarks containing abusive and obscene language, personal attacks of any kind or promotion will be removed and the user banned. Final decision will be at the discretion of the Taipei Times.