TAIPEI CRASH: Media commends actions of pilot before plane crash
'A CONSCIOUS EFFORT': Several officials agreed that it appeared the pilot made the decision to direct the plane away from buildings to avoid further casualties
Foreign media have lauded pilot Liao Chien-tsung (廖建宗) for his courageous endeavors in the final moments of TransAsia Airways Flight GE235, steering away from buildings to avoid further casualties, while comments from former pilots appear to confirm rumors that Liao told the company that there was a problem with the engines.
Flight GE235 bound for Kinmen crashed into the Keelung River on Wednesday morning about 5km out of Taipei International Airport (Songshan airport).
There were 53 passengers and 5 crew members on board.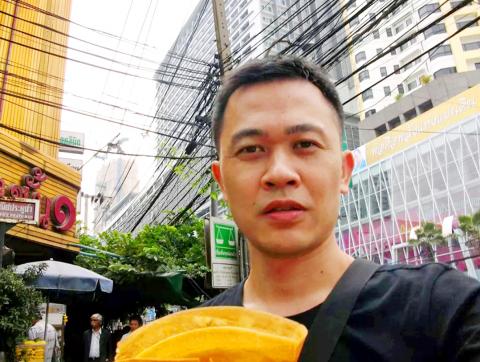 Liao Chien-tsung.
Screen grab from Liao Chien-tsung's Facebook account
At least 31 of the passengers have been confirmed dead and rescuers continue to scour the river for the remaining 12 passengers.
A total of 15 passengers survived, most with injuries,, while two passengers in a taxi that was hit on the bridge by the plane sustained minor injuries.
Hong Kong-based aviation analyst Daniel Tsang said: "Based on the flight path, the pilot deviated and tried to avoid obstacles. The pilot apparently made a conscious effort to avoid further and unnecessary casualties by ditching in the river. It was a very courageous move."
Former aviation safety inspector at the US Federal Aviation Administration (FAA) David Soucie said: "Well I've gone through each of them [the dash-cam videos] frame by frame and as you can see … it goes out of sync meaning that the left propeller lost power ... so this movement to the left was intentional by the pilot to avoid the buildings … and to make an attempt to reduce fatalities by trying to get it onto the water and miss the obstructing bridge."
One source said that most pilots were "trained to just continue straight, it's the best lift and the engine will allow you to continue to travel" if they suffer a flame-out of an engine during a critical phase of flight, adding that Liao had "made that decision, a conscious decision" to steer the plane into the river.
Former US Department of Transportation Inspector General Mary Schiavo said: "He was pretty close to actually saving many more … here they would have probably made it, and many more would have survived, if that wing hadn't dropped and they hadn't scraped the wing."
"Statistically speaking, just an outrageously bad safety record," Schiavo said referring to TransAsia's safety record, which has suffered five crashes since 1995, including TransAsia Airways Flight GE222 which crashed in Penghu in July last year, killing 48 people of the 58 on board.
Many former pilots of the ATR72-600 series said that it was possible to fly and land the plane using a single engine, which suggests a faulty engine was to blame.
Meanwhile, former Civil Aeronautics Administraton director-general Billy Chang (張國政) said that the pilot's actions had sought to minimize damages to the ground, especially as the plane was above a densely populated region.
Taipei Mayor Ko Wen-je (柯文哲) also said that the pilot had done his best, adding that the plane crashed 50m before a utility tower holding high voltage lines, which could have caused a major blackout in Taipei.
Comments will be moderated. Keep comments relevant to the article. Remarks containing abusive and obscene language, personal attacks of any kind or promotion will be removed and the user banned. Final decision will be at the discretion of the Taipei Times.