Ko apologizes for 'throwaway' timepiece statement
Taipei Mayor Ko Wen-je (柯文哲) said yesterday that he made a faux pas by saying he intended to scrap a gift presented by visiting British Minister of State for Transport Susan Kramer a day earlier.
"I want to express my apology to Ms Kramer," Ko said during a news conference.
The mayor added that he often makes inappropriate statements and promised to correct the problem.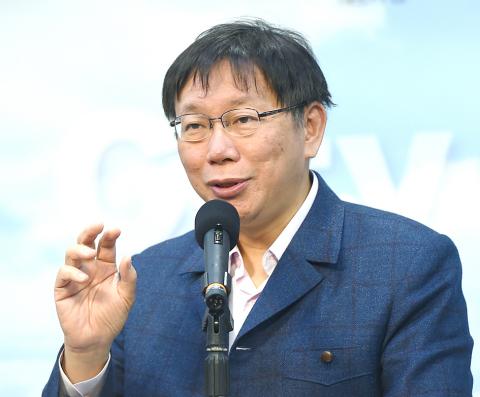 Taipei Mayor Ko Wen-je in Taipei yesterday apologizes for comments he made about a watch given to him by British Minister of State for Transport Susan Kramer on Monday.
Photo: Fang Pin-chao, Taipei Times
He added that he will soon receive diplomatic etiquette training.
Ko was asked on Monday whether he felt uncomfortable with the gift because of a taboo in Taiwanese and Chinese culture on timepieces as gifts.
After receiving a watch from Kramer, Ko said: "I can just regift it to someone or take it to a scrap metal dealer and sell it for cash."
Kramer later on Monday issued a statement saying she was sorry and that she "had no idea a gift like this could be seen as anything other than positive."
Separately yesterday, prior to Ko's apology, Kramer was asked to comment on Ko's reaction.
"I am aware that I made a cultural mistake out of lack of knowledge with the gift," Kramer said.
In the UK, "we say time is precious, so I didn't understand the implications here in Taiwan," Kramer said. "Now I have learned something new."
"It has not in any way impacted the relationship and conversation that we have with the city of Taipei; we look forward very much to constructively working together," she added.
"Our conversation has been very constructive. We see many opportunities for future collaboration. And I could never be offended by humor," Kramer said when pressed.
Meanwhile, Ko, who is known for his off-the-cuff remarks, drew criticism from across the political spectrum for his perceived rudeness.
Netizens said that Ko should apologize for the remarks and for embarrassing Taiwan, while Democratic Progressive Party Taipei City Councilor Rosalia Wu (吳思瑤) lambasted Ko, an independent, on Facebook, saying: "City-to-city diplomacy is critical for Taiwan; as the mayor of the capital, he should have taken greater responsibility."
Writer Chang Ta-chuen (張大春) said on Facebook that "if Ko wants to withstand the trials during his term as mayor, he should know that what the media want to see is him getting into a fight with someone. He would be tossed away like an old shoe if he is injured or bites the dust."
Chang added that Ko once said he scored 157 in an IQ test, adding that whether Ko can survive possible potential public relations disasters depends on whether he has the same level of emotional wisdom.
Former minister of transportation and communications Yeh Kuang-shih (葉匡時) said that during the campaign period before the nine-in-one elections last year, he questioned whether Ko's view of the world and his value system were appropriate for the then-candidate to represent the city to greet overseas guests.
"Unfortunately, it [the incident] has shown that my doubts at that time were valid," Yeh said. "I hope Ko can learn how to manage city affairs with a down-to-earth manner, rather than affirming his own values by denying those of others."
Comments will be moderated. Keep comments relevant to the article. Remarks containing abusive and obscene language, personal attacks of any kind or promotion will be removed and the user banned. Final decision will be at the discretion of the Taipei Times.