Eight activists begin trial over Zhang standoff
The high-profile trial of eight young activists charged over an alleged incident involving China's Taiwan Affairs Office Minister Zhang Zhijun (張志軍) began yesterday.
On June 26 last year, members of the Black Island National Youth Front allegedly blocked a road by chaining themselves together before Zhang's tour of New Taipei City's Wulai District (烏來) — an Atayal Aboriginal village.
Despite being swiftly removed and arrested by police officers, the activists managed to delay Zhang's visit to the village by 20 minutes.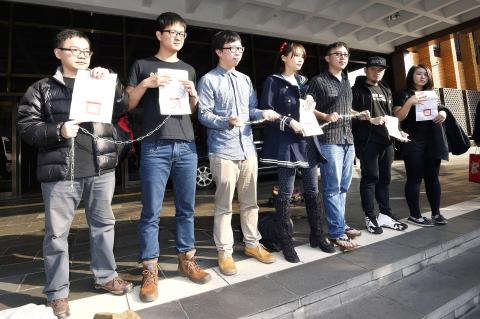 Black Island National Youth Front members yesterday stand outside the Taipei District Court, where they appeared on charges of obstructing a road during a visit by China's Taiwan Affairs Office Minister Zhang Zhijun on June 26 last year.
Photo: Chen Chih-chu, Taipei Times
Eight group members — including students Dennis Wei (魏揚) and Lai Ping-yu (賴品妤) — were indicted last month on criminal charges of coercion (強制罪) and obstruction of public traffic and communication (妨礙公共交通往來).
Group members played a key role in last year's Sunflower movement, in which student-led protesters in Taipei occupied the legislature's main chamber for nearly 23 days in March and April over the government's handling of the cross-strait service trade pact.
The activists yesterday said that while their blockade denied pedestrian and vehicular access to Wulai, their goal was to stop President Ma Ying-jeou's (馬英九) administration from "incessantly leaning toward China politically and economically."
They asked if the administration was trying to "prevent ambassadors from the 'celestial kingdom' from hearing Taiwanese voices," using an archaic term for China.
"Since the [Chinese] special ambassador was in Taiwan to discuss important issues involving economic trade — which would create a large impact on people's livelihoods — why would the government not allow people to express their opinions?" Wei asked.
Lai said that citizens should have the right to express their opinions through protests and demonstrations, and accused the government of abusing its power through judicial channels.
Human rights lawyer Greg Yo (尤伯翔), one of the volunteer lawyers on the case, said that it was "deeply regretful" that the Taipei District Prosecutors' Office decided to indict the activists, adding that he believed that the court would protect their freedom of speech.
If found guilty, the activists could be sentenced to up to three years in prison for coercion, and up to five years in prison for obstruction of public traffic and communication.
Comments will be moderated. Keep comments relevant to the article. Remarks containing abusive and obscene language, personal attacks of any kind or promotion will be removed and the user banned. Final decision will be at the discretion of the Taipei Times.