Jay Chou marries in UK
Mando-pop king Jay Chou (周杰倫) and Taiwanese-Australian model/actress Hannah Quinlivan (昆凌) were married in Yorkshire, England, on Saturday afternoon in an extravagant ceremony featuring a string ensemble playing a composition by Chou.
The ceremony at Selby Abbey, in the town of Selby, came the day before Chou's 36th birthday.
Quinlivan, 21, wore a heavily embroidered ball gown and a NT$33.38 million (US$1.05 million) tiara and necklace worth NT$278.1 million by French jeweler Chaumet.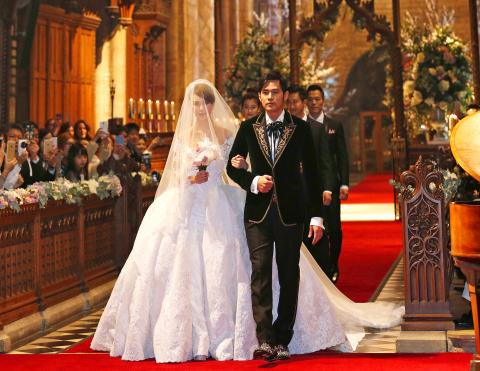 Singer Jay Chou and model/actress Hannah Quinlivan walk down the aisle on Saturday afternoon during a ceremony at Selby Abbey in Selby, Yorkshire, England.
Photo: Courtesy of JVR Music
Chou said he wrote a song for his marriage "to make the wedding different."
The Chinese-language Apple Daily yesterday said the ceremony was believed to have cost more than NT$20 million, including accommodation for guests, which it said cost about NT$10 million.
Chou did not accept any sponsorship for the wedding.
Mando-pop star Jay Chou and model/actress Hannah Quinlivan pose next to a white horse near Neuschwanstein in Bavaria, Germany in a photograph taken in October last year and released on Saturday by the singer's record company.
Photo: CNA
However, it was not clear yesterday whether the Selby Abbey ceremony was actually a wedding or a "blessing" service.
According to the abbey's Web site, under UK law, to be married in the abbey would require at least one of the couple to have lived in the parish of Selby Abbey, attended services for a set period there, or had a parent or grandparent married at the abbey.
According to JVR Music, the couple registered their marriage last year. It is unclear whether the marriage was registered in Taiwan or another country.
Chou's record and management company, JVR Music, on Saturday released three engagement photographs of the couple that were taken in France, Germany and the Czech Republic in October last year.
One of the photos shows the couple facing each other with the Prague's historic Charles Bridge the background.
Another shows Quinlivan in a long white dress embracing Chou, who is wearing a white shirt and dark vest and pants, next to a horse in a pasture, with the iconic Bavarian castle of Neuschwanstein in the background.
This story has been amended since it was first published to correct the date of the wedding.
Comments will be moderated. Keep comments relevant to the article. Remarks containing abusive and obscene language, personal attacks of any kind or promotion will be removed and the user banned. Final decision will be at the discretion of the Taipei Times.