Siao Wulai paths opened to public
POPULAR DEMAND: Several new facilities have been launched, including paths and an area to watch the sun come up. A 70m-long rope bridge is to open this month
New paths in Taoyuan County's Siao Wulai District (小烏來) are scheduled to be opened this month aimed at making visiting popular tourist attractions in the area easier, the Siao Wulai Scenic Area Administration Office said.
The walkways offer improved access to Chiang Kai-shek's (蔣介石) former residence in Jiaobanshan (角板山), Lalashan's (拉拉山) cherry blossoms and the Baling Stargazing Plaza, where visitors can look at the stars or watch the sun come up.
Office director Yeh Tsung-fu (葉宗賦), said the walkways were constructed to address the concerns of visitors over the New Year holidays who complained that there was not a suitable area for watching the sunrise.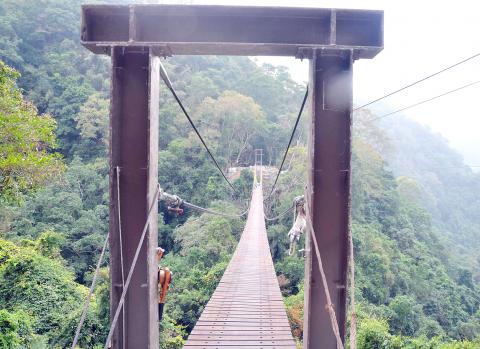 The suspension bridge in the Siao Wulai scenic area in Greater Taoyuan's Fusing Township disappears into the mist on Dec. 20 last year.
Photo: CNA
Aside from remodeling the Baling Village (巴陵) parking lot in Fusing Township (復興) into the Baling Stargazing Plaza, the office also plans to open a 70m-long rope bridge for visitors at the end of this month.
The bridge passes over Daligan River (大利敢溪) and would present the visitors with a view of the Hsiao Wulai waterfalls, Yeh said.
The area has seen extensive additions since 2011, when the office completed its sky bridge project and the subsequent construction of the Huanyu Gazing Platform, which offers a 360-degree unobstructed view of the area, Yeh said.
The Riverside Green Path and the Shuichun Ancient Trail incorporate an area reserved for children and tourists to bathe in the river during the summer, and tourists can also visit the area where Warriors of the Rainbow: Seediq Bale was filmed.
The area had more than 600,000 visitors last year, which the office attributed to food vendors and members of staff dressing in traditional Atayal clothing, Yeh said, adding that there were more than 326,000 visitors to the sky bridge.
The area saw the most tourists of all the forest scenic areas north of Greater Taichung and was only slightly less popular than major scenic areas such as Nantou County's Sitou (溪頭) National Forest Recreation Area, Chiayi County's Alishan National Scenic Area (阿里山) and Pingtung County's Kenting National Park, Yeh said.
From this month to next month, trees in the Chienshan area (前山) — the region closest to the mountains on Taiwan's west coast — will begin to blossom in Taoyuan County's Dongyenshan (東眼山).
The tree blossom season is expected to peak after Lunar New Year's Day with cherry blossoms in Kavilan Township (卡維蘭) on the east coast, Yeh said.
Comments will be moderated. Keep comments relevant to the article. Remarks containing abusive and obscene language, personal attacks of any kind or promotion will be removed and the user banned. Final decision will be at the discretion of the Taipei Times.