Police hunt for Ximending killer
HIRED GUN? A preliminary investigation indicated that the double murder was related to financial disputes arising from drug dealings and illegal betting
Authorities are looking for a suspect who they say is likely to be a hired hitman affiliated to criminal gangs, after two men were shot dead in a parking lot in Taipei's Ximending (西門町) on Tuesday.
A preliminary investigation indicated that the double murder was related to money disputes arising from illicit drug dealings by organized crime groups who are active in northern Taiwan, a police official who declined to be named said.
The murder took place at Emei Car Park at about 11:40am on Tuesday.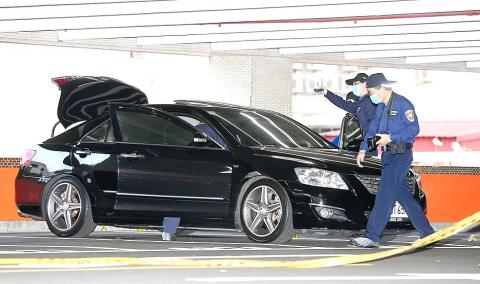 Police investigate the crime scene at a parking lot in Taipei's Ximending on Tuesday after two men were shot and killed in a parking lot.
Photo: Lo Pei-der, Taipei Times
The older of the two cousins, 24-year-old Tsai, was shot four times, according to the autopsy, while the younger 21-year-old Tsai was shot twice by the hitman.
The police have recovered five 9mm bullet casings from the crime scene.
The police said they are looking for a man in his 30s, about 170cm tall, with a slender built, and have appealed to the public for information on the suspect.
Video footage showed the suspect wearing a black peaked cap, black jacket and blue jeans. He put on a gauze mask to conceal his face when he took the parking lot elevator from the seventh floor to the ground floor when he fled the scene. Once outside the car park, the suspect hailed a taxi at about 12:22pm.
Taipei Mayor Ko Wen-je (柯文哲) has asked the police to step up efforts to crack the case.
A task force set up by the Taipei City Police Department and Taipei District Prosecutors' Office conducted interviews yesterday with families and friends of the two victims to gather information.
Evidence from the crime scene suggested that the killer and the Tsai cousins knew each other.
Police said the three men were talking in the car park, where the killer shot one victim first, before killing the second victim when he returned from buying a beverage. He then piled the bodies into the backseat of a Toyota Camry, the car driven to Taipei from Greater Taichung by the two cousins.
Although the cousins did not have any previous criminal convictions, they did have prior charges related to possession of the illegal recreational drug ketamine, according to a police official.
Local news reports quoted a source from an organized crime group as telling the police that the murder was related to financial disputes from drug dealings and an underground betting operation that went sour, and the two cousins were killed when they demanded payment from a gangster boss, who hired a professional hitman to do the job.
Comments will be moderated. Keep comments relevant to the article. Remarks containing abusive and obscene language, personal attacks of any kind or promotion will be removed and the user banned. Final decision will be at the discretion of the Taipei Times.