Gender reassignment rule to be changed
People who wish to legally change their registered gender will soon no longer be required to undergo surgery before applying, the Ministry of the Interior said yesterday, marking a long-awaited victory for transgender rights advocates.
The ministry said it would soon terminate a controversial administrative order issued in 2008 that requires the surgical removal of gender-specific organs, as well as assessments from two psychiatrists, before a person is allowed to apply for gender reassignment.
Future applications for gender reassignment will be processed by a special committee that will include specialists on gender issues, psychiatrists and transgender representatives, long-time political activist Shih Ming-te (施明德) said yesterday at a news conference organized by transgender advocacy groups.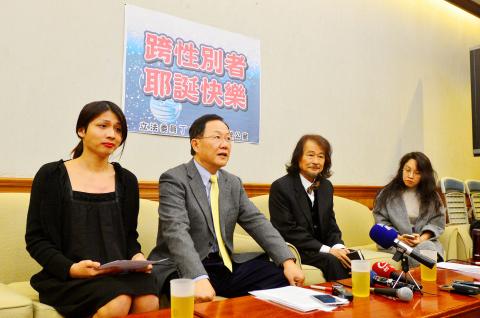 Chinese Nationalist Party (KMT) Legislator Ting Shou-chung, second left, former Democratic Progressive Party chairman Shih Ming-te, second right, and others attend a press conference organized by transgender advocacy groups in Taipei yesterday.
Photo: Wang Yi-sung, Taipei Times
According to the ministry's current plans, applicants would be allowed to change their registered gender after they receive approval from the committee and wait through a required "hesitation period" of six months, Shih said, adding that applicants have to be over 18 years old.
Transgender rights advocates have long argued that a person's gender should be based on self-identification rather than proof of surgery, and that the "inhumane" surgery requirement has forced many transgender people to undergo cheap, unsafe surgeries that have led to lasting injuries.
Led by Chinese Nationalist Party (KMT) Legislator Ting Shou-chung (丁守中), a motion demanding that the ministry abolish the administrative order received bipartisan support at the legislature's plenary session on Tuesday.
Ting said that forcing transgender people to surgically remove their reproductive organs is a violation of human rights.
In response, the interior ministry promised to abolish the order within one month, adding that it would formulate alternative criteria for gender reassignment applications with the Ministry of Health and Welfare.
An 18-year-old transgender activist known as Miss Wu (吳小姐), who was born male, but identifies as a transgender woman, said that transgender people encounter numerous difficulties as a result of their registered gender being different from the one they identify with.
"This is a very good Christmas present for me," she said.
Other transgender activists have cited difficulties in applying for dormitory places or employment opportunities, as well as ridicule from others because of their choices in clothing and self-expression.
The reform signals a major step forward in better protecting the rights of transgender people, the Intersex, Transgender and Transsexual People Care Association said in a statement.
Comments will be moderated. Keep comments relevant to the article. Remarks containing abusive and obscene language, personal attacks of any kind or promotion will be removed and the user banned. Final decision will be at the discretion of the Taipei Times.