Deadline nears for recall petitions
With the petition to recall Chinese Nationalist Party (KMT) Legislator Alex Tsai (蔡正元) already submitted, activists from the Appendectomy Project have now turned their efforts to the two other campaigns to recall KMT legislators Wu Yu-sheng (吳育昇) and Lin Hong-chih (林鴻池).
With the deadline to submit the petitions on Friday, the project redoubled its efforts in the New Taipei City constituencies of Wu and Lin over the weekend.
In order to attain the required 13 percent threshold to launch a recall referendum, the project must garner the support of 37,469 signatories in Wu's constituency of Tamsui/Sanjhi (淡水/三芝) districts, and 27,677 in Lin's Banciao (板橋) constituency.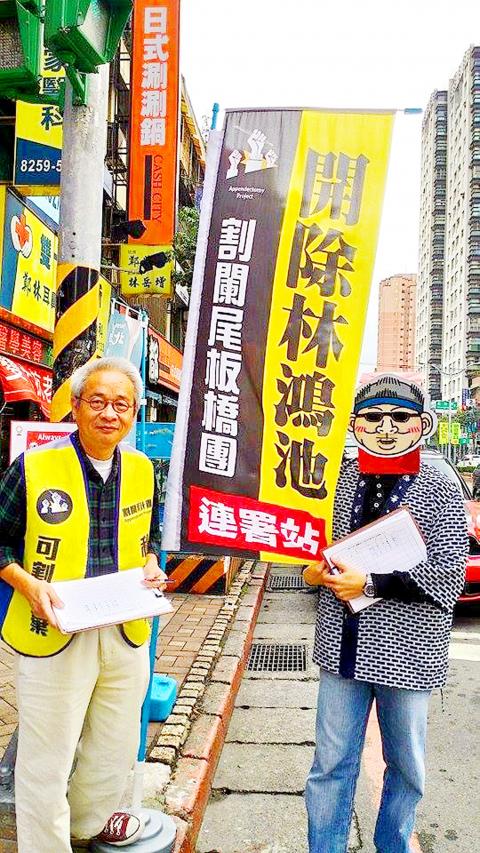 Author Neil Peng, left, yesterday takes part in an activity organized by the Appendectomy Project in New Taipei City's Banciao District to campaign for the recall of Chinese Nationalist Party (KMT) Legislator Lin Hung-chih.
Photo: Courtesy of the Appendectomy Project
Project activists said more than 5,000 signatures were collected in Banciao on Saturday thanks to volunteers who canvassed several traditional marketplaces. However, the project has collected less than half of the required signatures to recall Lin.
It has had better luck with the petition to recall Wu, with nearly three-quarters of the required signatures gathered.
The petition to recall Tsai, which passed the required threshold last week, is now under review by the Central Election Commission, which has 40 days to verify the information provided by the petitioners. If it validates the petition, a recall referendum is likely to be held before the end of February.
The name Appendectomy Project was chosen because the term for pan-blue camp legislators in Mandarin Chinese, lan wei (藍委), is pronounced the same as the word for "appendix" (闌尾).
The project said it targeted the three KMT lawmakers because they adhered to President Ma Ying-jeou's (馬英九) instructions rather than the public's wishes.
Comments will be moderated. Keep comments relevant to the article. Remarks containing abusive and obscene language, personal attacks of any kind or promotion will be removed and the user banned. Final decision will be at the discretion of the Taipei Times.