Ko Wen-je makes Soong his lead policy adviser
BUILDING A TEAM: The Taipei mayor-elect praised James Soong's achievements as Taiwan provincial governor and said he hopes to learn much from the PFP chairman
Independent Taipei mayor-elect Ko Wen-je (柯文哲) yesterday announced that People First Party Chairman James Soong (宋楚瑜) has accepted his offer to become his top policy adviser.
"Soong's administrative team during his term as Taiwan provincial governor has always been considered the most efficient team, and I have a lot to learn from him," Ko told a press conference immediately after his more-than-an-hour-long meeting with Soong yesterday morning.
"Soong talked about a lot of things during the meeting, but I feel that I still have much to learn from him, therefore I would like to invite him to be my top policy adviser," Ko said.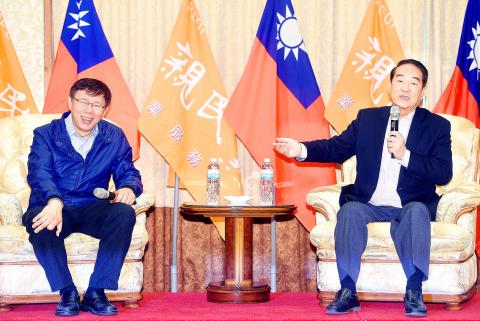 Taipei mayor-elect Ko Wen-je, left, smiles during a meetuing with People First Party Chairman James Soong yesterday. Ko invited Soong to be his top policy adviser.
Photo: Fang Pin-chao, Taipei Times
Ko then repeated the invitation three times, saying that as a first-time mayor, he does not know what challenges are ahead and therefore needs an experienced political leader to give him advice.
Soong gladly accepted the offer, saying that he does not care about the title, but would like to help as much as he can. He added that he would accept the position without pay and promised that he would not interfere in Ko's appointment of officials.
He then told Ko that "there is no other way to handle public affairs, but to always have the public in mind and to be patient."
Commenting on the controversies that Ko has triggered with his recent remarks on certain policy projects, Soong said that he admires Ko for his honesty and being himself.
"Are these not the personality traits that attracted voters and led to his election?" Soong asked.
However, Soong added that as a mayor, Ko should also try not to talk too fast and advised that Ko should have at least three types of assistants by his side.
"The first is a troubleshooter who is able to identify problems and help solve them; the second is someone who can take down promises or complaints that Ko makes or receives when meeting with people, and follow up on these issues afterwards," Soong said. "And the third is a spokesperson who has to take part in meetings and understands what Ko thinks, so that he or she may serve as a buffer for Ko."
Asked if he agrees with Ko on cross-strait relations, as Ko believes Taiwan and China are two separate countries, while Soong supports a "one China" policy, Soong said that they are actually on the same page, as at the core, both of them believe that cross-strait relations should develop peacefully and in a moderate way.
Comments will be moderated. Keep comments relevant to the article. Remarks containing abusive and obscene language, personal attacks of any kind or promotion will be removed and the user banned. Final decision will be at the discretion of the Taipei Times.