2014 ELECTIONS: Gou draws fire for investment pledge
'EMBARRASSMENT': An activist called it shameful that a Chinese netizen had made a list of Gou's unfulfilled campaign pledges to warn against his investments
Foxconn Technology Group chairman Terry Gou (郭台銘) came under fire yesterday for saying on Monday that he would "invest more" in Greater Taichung if Taichung Mayor Jason Hu (胡志強) of the Chinese Nationalist Party (KMT) is re-elected, drawing criticism from Democratic Progressive Party (DPP) Chairperson Tsai Ing-wen (蔡英文) and student activist Chen Wei-ting (陳為廷).
Tsai criticized what she called the business tycoon's overly intimate relationship with the KMT on Facebook yesterday, saying that for Taiwan's economy to experience vibrant and robust development, the economic environment should be distanced from political "colors," because a political party interacting too closely with big corporations would engender a hotbed of corruption.
"Corporations getting too involved in electoral campaigns would also raise suspicion that they have engaged in quid pro quo dealings with a certain party," she added.
Greater Taichung Mayor Jason Hu, third left, looks on as Foxconn Technology Group chairman Terry Gou, right, speaks to reporters at a business conference in Greater Taichung on Monday.
Photo: Liao Chen-huei, Taipei Times
Tsai said that if an entrepreneur cares about the Taiwan's future, "he would not pull investments from the nation simply because the ruling party changes," adding that if this entrepreneur cares about improving people's lives "he would start with the people in his own company by taking care of his employees, protecting the environment and helping vulnerable groups, rather than intervening in elections."
Chen focused his criticism on the promise of a NT$200 billion (US$6.47 billion) investment Gou made while stumping for Hu in Taichung.
The student leader, who cofounded activist group Taiwan March after helping spearhead the Sunflower movement, snubbed the offer yesterday on Facebook, saying the businessman had made similar promises in previous elections that had gone unfulfilled.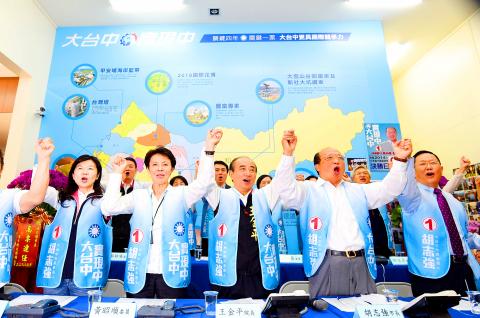 Legislative Speaker Wang Jin-pyng, center, Taichung Mayor Jason Hu, second right, and other Chinese Nationalist Party (KMT) members in Greater Taichung yesterday prepare to man phone lines to canvass votes for Jason Hu, second right, who is seeking reelection as Taichung Mayor.
Photo: Liao Yao-tung, Taipei Times
From 2002 to 2010, Gou made seven such promises during electoral campaigns that have yielded little results, Chen said, citing a chart compiled by a Chinese netizen to warn others in China against Gou's investment plans.
"It's such an embarrassment that a Chinese person used examples from Taiwan to caution other Chinese against Gou," Chen wrote.
The activist said that because it only goes up to 2010, the chart probably only shows part of Gou's unfulfilled promises, because within the past four years, the tycoon must have made more such offers.
"The most famous example of these pledges is the one he made regarding Miaoli County's Dapu Borough (大埔). Miaoli County Commissioner Liu Cheng-hung (劉政鴻) used Gou's plan to carry out factory expansions as an excuse to support the county government's land expropriation. Now, with the land expropriated, rice fields destroyed and a person dead, Gou has said that no factory will be built after all," Chen said, referring to Chang Sen-wen (張森文), who died after his home was bulldozed last year.
He added that it would not mean much if the businessman did follow through on his promises, because as "a lot of people have already pointed out when Gou threatened to leave Taiwan days ago, Gou has been enjoying subsidies and tax exemptions in Taiwan, although most of his production lines are in China. He offers less than 5,000 job opportunities in Taiwan, which is proportionally not on par with the nation's small and medium enterprises."
In a separate incident, DPP Taichung mayoral candidate Lin Chia-lung (林佳龍) accused Hu of siding with big business, to which the incumber yesterday replied: "The public know who is close to the corporations."
Hu said that when Gou had asked people to not force Foxconn out of Taiwan, he had immediately thought of Taichung, stressing that politics should not hurt the economy, but the economy should not take the lead in politics either.
Additional reporting by Su Chin-feng
Comments will be moderated. Keep comments relevant to the article. Remarks containing abusive and obscene language, personal attacks of any kind or promotion will be removed and the user banned. Final decision will be at the discretion of the Taipei Times.