Taiwan fans defy officials to back HK protests at game
Taiwanese soccer fans were up in arms on Sunday after confrontations broke out when officials tried to stop spectators from expressing support for Hong Kong's pro-democracy movement at an East Asian Cup qualifier in Taipei.
At the men's qualifying match between Taiwan and Hong Kong, several hundred local fans heeded calls from groups to bring yellow umbrellas to the game, as they are a symbol of Hong Kong's democracy movement.
Fans in one row in the stands held up 14 yellow umbrellas displaying lyrics from Hong Kong band Beyond's hit song Glorious Years from the 1990s: "Hold on tight to freedom in the wind and rain. We have the confidence to change the future" (風雨中抱緊自由、自信可改變未來).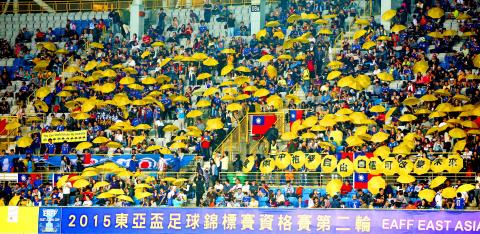 Fans show their support for the pro-democracy movement in Hong Kong at the second-round East Asian Cup qualifier between Taiwan and Hong Kong at the Taipei Municipal Stadium on Sunday.
Photo courtesy of the Chinese Taipei Football Association
Then, as the Chinese national anthem was being played, local spectators joined visiting fans in singing a rendition of Beyond's other 1990s hit, Boundless Oceans Vast Skies, the unofficial theme song of Hong Kong's "Umbrella movement."
One Hong Kong reporter said it was a surprise to see such strong support from Taiwan's sports community, adding that he was grateful that the fans staged such a display at an international soccer event.
Many Hong Kongers took to Facebook and other social media sites to thank Taiwanese for showing their solidarity, with one writing: "Hong Kong and Taiwan, we stand together and will fight together."
A number of Taiwanese spectators also brought Republic of China flags to the game. However, officials from the Chinese Taipei Football Association (CTFA) confronted the flag-waving fans, saying that waving flags was dangerous and telling the supporters to put them down. The officials added that sports should not be mixed with politics.
A CTFA referee section official identified as Shih Po-hai (史勃海) was seen going into the stands and demanding that spectators remove any protest slogans and national flags, while telling fans: "You cannot perform these activities here" and "Your actions will set our national team's ranking back further."
Some fans said their rights to freedom of expression and to stage displays of patriotism were infringed upon, and a large section of the stands began chanting: "Taiwan is a democratic country" at the official.
Many Taiwanese netizens accused CTFA officials of bowing to pressure from China and demanded they protect fans' rights to display flags and slogans at sports events.
Comments will be moderated. Keep comments relevant to the article. Remarks containing abusive and obscene language, personal attacks of any kind or promotion will be removed and the user banned. Final decision will be at the discretion of the Taipei Times.