2014 ELECTIONS: Ko denies organ buying allegations
BAD TRANSLATION? A Taiwan Association for International Care of Organ Transplants official said he has been in touch with the author, who has denied making the claims
Independent Taipei mayoral candidate Ko Wen-je (柯文哲) yesterday denied allegations that a US writer's book claims that he purchased human organs from China for transplants.
Ethan Gutmann's The Slaughter: Mass Killings, Organ Harvesting, and China's Secret Solution to Its Dissident Problem, which was published in August, reportedly alleges that Ko, as director of National Taiwan University Hospital's (NTUH) Department of Traumatology, bought organs from China prior to an interview Gutmann conducted with Ko in August 2007.
Gutmann reportedly wrote that Ko had considered purchasing organs from China due to the long wait — about two or three years — for people awaiting liver and kidney transplants in Taiwan, but that the doctor was worried that organs from Chinese death row inmates would be of poor quality due to disease or narcotics use.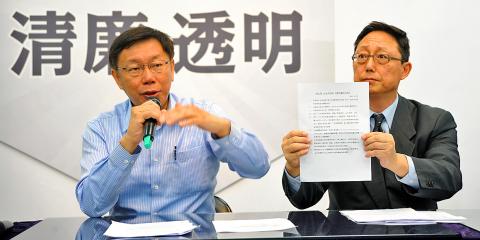 Independent Taipei mayoral candidate Ko Wen-je, left, and his campaign executive director Yao Li-min yesterday present a "clean government and transparency" pledge that Ko said senior city government officials would have to sign if he is elected mayor.
Photo: Liu Hsin-de, Taipei Times
Gutmann reportedly claims that Ko reached an agreement with Chinese doctors to receive the organs of Falun Gong members, as most of them were young and healthier.
Ko's campaign office issued a statement on Monday night denying the allegations.
The statement said that Ko agreed to be interviewed by Gutmann in 2007 to talk about the shady sources of Chinese human organs.
The office said that Ko has recordings of the interview that would prove the discrepancies between what Ko said and what Gutmann wrote.
Ko yesterday said that after overseeing post-transplant care at the hospital, he had not conducted transplants nor bought or sold human organs in China.
Gutmann contacted him because he was one of the designers of Taiwan's organ transplant registry system, Ko said.
Ko said he told Gutmann that there were some doctors in Taiwan who had been involved in buying or selling organs for transplant, but that he was not one of them.
He never drank with Chinese officials or went to karaoke parlors with them as the book reportedly claims, the doctor said.
Taiwan lacked a systematic management plan for organ donations, which was why he spent two years helping establish a registry system and made it as transparent as possible, Ko said, adding that the system did not deter people from going to China for organ transplants.
Meanwhile, physician Huang Shi-wei (黃士維), who is deputy director of the Taiwan Association for International Care of Organ Transplants, and who helped set up the interview between Gutmann and Ko, was quoted by news Web site Newtalk as saying that he got in touch with Gutmann after local media reported on the book.
Gutmann, through an interpreter, told him that he had not said that Ko was involved in the organ trade and that he might have been misinterpreted, Huang said.
Huang also quoted Gutmann as saying that he has received notice from Ko's lawyer about the alleged inaccuracies and that he would, through his lawyer, discuss with Ko how to correct the book.
Chinese Nationalist Party (KMT) Taipei mayoral candidate Sean Lien (連勝文) yesterday said that if the allegations were true, "it sounds like a very scary matter."
Ko must address the allegations in full detail or risk his integrity being stained, Lien said.
Comments will be moderated. Keep comments relevant to the article. Remarks containing abusive and obscene language, personal attacks of any kind or promotion will be removed and the user banned. Final decision will be at the discretion of the Taipei Times.