Groups pan Taipower monopoly
INEFFICENT, INSUFFICIENT: A coalition criticized efforts at promoting green energy and said that the monopoly prevents firms choosing environmentally friendly sources
Taiwan Power Co's (Taipower) monopoly on electricity production must be ended if the nation is to develop green energy production, representatives of the Renewable Energy Coalition (再生能源聯盟) said yesterday.
The remarks were made at a press conference at which commentators criticized what was described as lack of government action on pushing renewable energy sources.
At the conference, Democratic Progressive Party Legislator (DPP) Tien Chiu-ching (田秋堇) said that despite several reports and pieces of legislation, substantive promotion of renewable energy has yet to be implemented.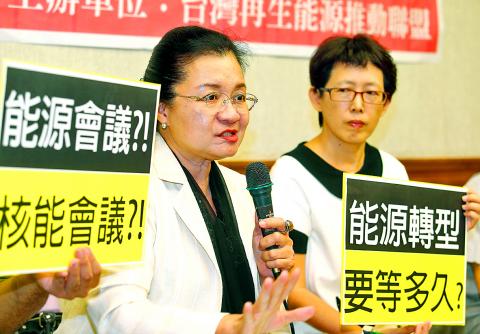 Democratic Progressive Party (DPP) Legislator Tien Chiu-ching, left, speaks at a press conference with members of the Renewable Energy Coalition, yesterday.
Photo: Fang Pin-chao, Taipei Times
"Taiwan has already held numerous energy conferences — from 1998 to 2005 to 2009 — but their consensus for the proactive promotion of renewable energy development remains largely unimplemented" National Taipei University economics professor Wang Tu-fa (王塗發) said.
Wang criticized the government's policy of setting quotas for renewable energy production as inefficient and insufficient.
According to the Ministry of Economic Affairs' Bureau of Energy, this year's quota for renewable energy production is 270 megawatts (MW), equal to 1.1 percent of total national energy consumption.
Production of renewable energy is hampered by the system for selling electricity, which prevents the direct purchase of energy produced with renewable sources, Taiwan NGO Social Enterprise Co Ltd general manager Kao Ru-ping (高茹萍) said.
For example, even though Google Inc has committed to obtaining all of its energy from renewable sources, its data centers in Taiwan only use 4.8 percent, due to regulations granting Taipower a monopoly over the electricity market, she said.
While the law allows firms to produce their own green energy on-site, this is not feasible on a large scale for most companies due to the space required, Wang said.
Any electricity produced off-site cannot be bought directly, even if it is produced by the company itself, he said. Instead, any electricity that enters the national grid must be sold to Taipower, which possesses a monopoly on all electricity sales, he said.
Because companies cannot choose the source of the electricity Taipower provides, the monopoly denies firms the option of purchasing green energy, he said.
He said that the government must open up the electricity market to allow direct sales between green energy producers and consumers.
Combined with green energy markets and a system of taxes and subsidies reflecting the externalities of different fuel sources, this measure could easily increase renewable energy's proportion of electricity production to between 5 and 6 percent, he said.
Comments will be moderated. Keep comments relevant to the article. Remarks containing abusive and obscene language, personal attacks of any kind or promotion will be removed and the user banned. Final decision will be at the discretion of the Taipei Times.